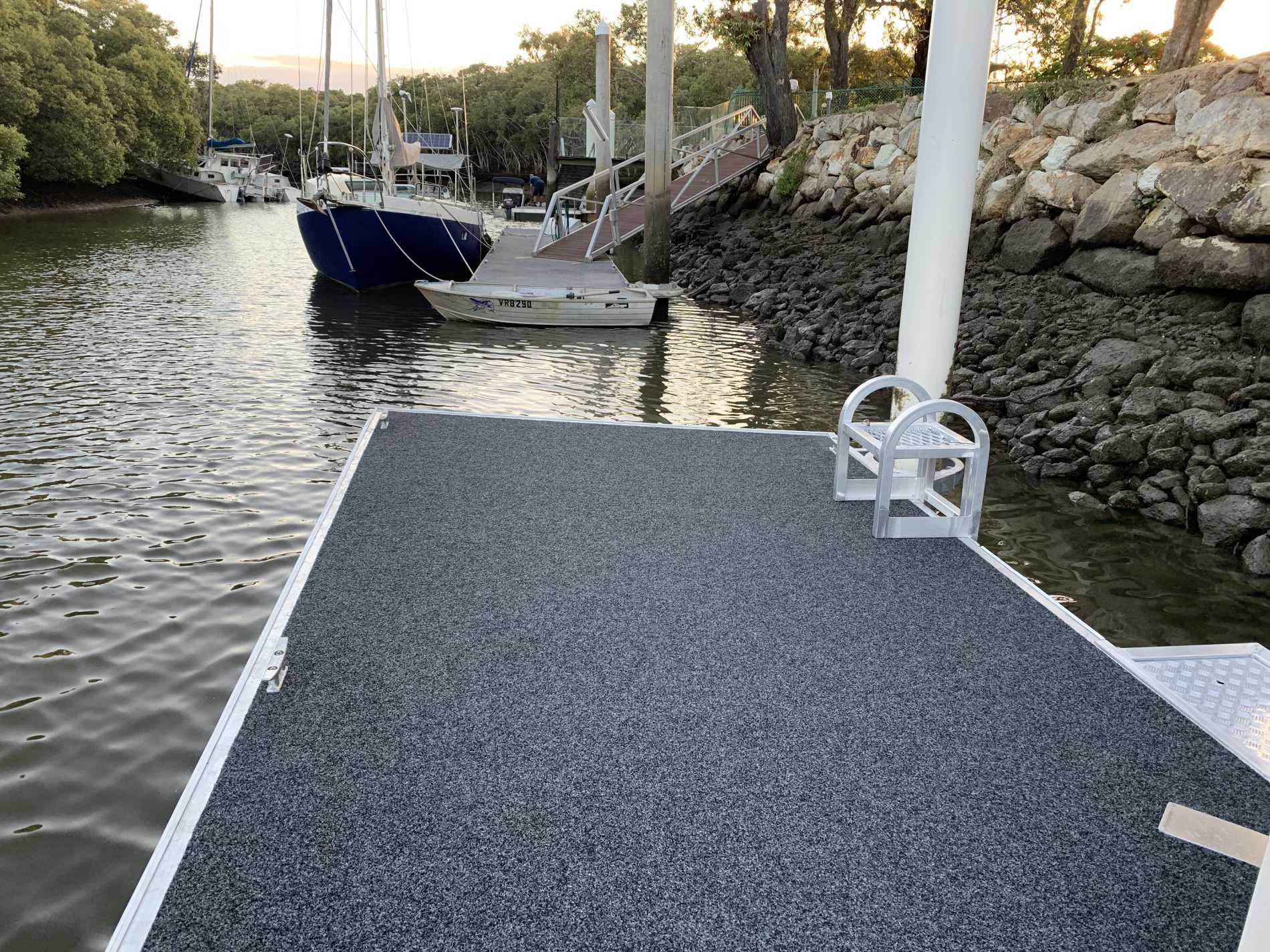 Floating Pontoons are a common occurrence amongst waterfront homes on the Gold Coast and indeed across Australia. If you read my earlier post, you will see that pontoons can add significant value to a home, making them an attractive investment for homeowners. Yet, more often than not, only those Gold Coast homeowners who own a boat, tinny, jet ski or PWC tend to have them.
As one of the leading pontoon manufacturers on the Gold Coast, we think this is a massive shame! Pontoons have so much to offer anyone living on the waterfront, not only those who own a boat or watercraft.
Today, we're going to turn our attention to all the other benefits and uses of having a floating pontoon beside the obvious – mooring.
Floating Terrace
Whether you live on Currumbin Creek, Swan Lake, Lake Hugh Muntz, Biggera Creek, Coral Sea, Lake Orr, Robina Waters, Paradise Lake, Pine Lake, Lake Heron, Clear Island Lake, Coomera River, Burleigh Lake, West Lake, Nerang River, any waterfront home on the Gold Coast will provide a gorgeous view.
With a floating pontoon installed in your Gold Coast waterfront home, you can enjoy the view all the more by turning it into a floating terrace. A table, few chairs, and an umbrella are all you need to create a spectacular setting that will be the envy of your friends.
You can keep the spot to yourself, impress your friends over twilight drinks and nibblies, or create a very romantic setting for your better half. Pontoons can be as wide as your boundary to boundary measurement, minus three metres, so there's plenty of space to entertain in style.
Fishing Platform
Any fishing enthusiast will get great value from having a floating pontoon installed in their Gold Coast waterfront home! With the floating pontoon dock positioned on your quayline, you have an advantage of around 8-12mt beyond the shore, so you can cast directly into the deeper waters, pop a crab pot in or store live bait in a pontoon bait box. Another highlight is that you can clean your catch down on the pontoon, avoiding making a messy smell up at the house. You don't have to worry about walking to a nearby bridge or getting in a tinny to do a little fishing when you have a pontoon installed in your own waterfront home – you and your family can enjoy freshly caught fish from your expansive backyard, and it's a great family bonding exercise also.
Diving Platform
While we don't condone it and are strong advocates of water safety, floating pontoons have been used by many as diving platforms, allowing waterfront homeowners direct access into the deeper waters.
By walking down the gangway to the floating pontoon, you're avoiding having to swim out to deeper water depth and can enjoy the refreshing feeling of diving into the sea. Again, this is not something we recommend doing. Gold Coast canals and rivers have murky water, and you cannot see the bottom. Thus, you are diving into the unknown. A seabed of rocks may await or an inquisitive bull shark. Swim at your own risk.
For more reasons to get a floating pontoon on the Gold Coast, please read '6 Reasons to Invest in a Pontoon Jetty'.
Conclusion
Floating Pontoons are standard fixtures for Gold Coast boat owners who live on the waterfront. They offer the convenience of being able to moor boats, tinnies, jet skis and PWC at home, saving boating enthusiasts the hassle of having to go to a boat ramp and find somewhere to store or moor their boat.
While mooring is the primary use of floating pontoons, you don't necessarily need to own a boat to avail of their benefits.
Floating pontoons are a great addition to any waterfront home on the Gold Coast and beyond. They can substantially increase the value of a waterfront home, but more so, they do provide alternative uses, which you may appreciate.
The most common non-mooring uses for floating docks on the Gold Coast include converting it into a floating terrace, a fishing platform, and a diving platform – at your own risk!
If you'd like to get a floating pontoon on the Gold Coast, then turn to Micks Marine Maintenance, the Coast's leading floating pontoon manufacturers.  Call our office today on 0431 778 468 to discuss your options. We're sure to be able to supply a pontoon to meet your needs and budget.