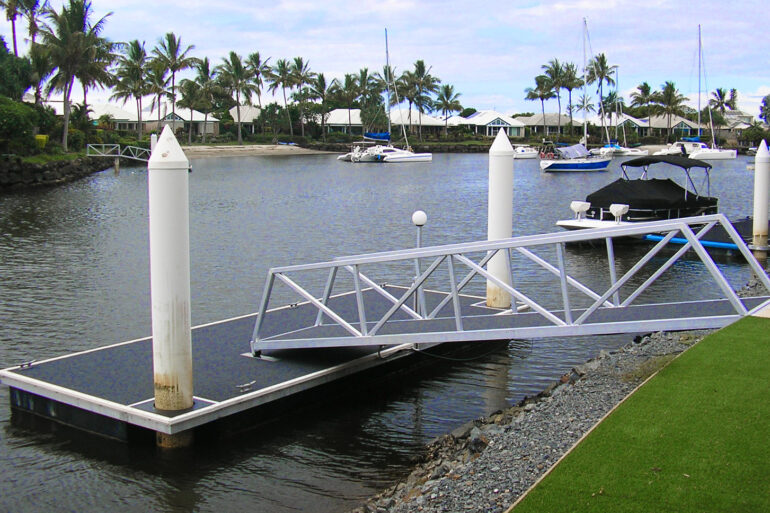 Do you love the waterfront lifestyle of the Gold Coast? Then, you need to make sure you're experiencing it in all its glory! The dream of owning a waterfront property for many remains just that; a dream. So, for those lucky enough to live out their dream, you're crazy not to take advantage of your situation to experience the best of waterfront living. And, by this, I mean to have a pontoon jetty built.
With a pontoon jetty, you can truly encompass the waterfront lifestyle and become part of your waterfront community. Whether you own a boat, jet ski, PWC, or love to fish, a pontoon jetty will offer new experiences that you can enjoy from your backyard.
Obviously, as the owner at Micks Marine Maintenance, I am biased towards pontoon jetties, but I have very good reason to be. They are genuinely a fantastic asset; not just for your enjoyment, but for the value of your property also.
Continue reading as I share with you six solid reasons why you need to invest in a pontoon jetty for your waterfront property on the Gold Coast.
Pontoon Jetties have multiple uses
As mentioned above, pontoons can be used for many applications. First and foremost, you can dock your boat, jet ski, tinnie, or PWC. However, with additional accessories, they can also be used for berthing, fishing, or to simply relax on and watch the sunset.
Pontoon Jetties increase the value of your property
Some real estate agents estimate that a pontoon jetty can add as much as 10% to the value of a waterfront property! Now, that's a better return than the current stock market!
So, if you have a property worth $900,000.00, then with a small investment, that property could be then valued at $990,000.00! Not only will the pontoon pay for itself, but you'll also pocket a nice chunky profit.
Ponton Jetties provide convenience
One of the worst drawbacks any boat owner faces is the inconvenience of getting the boat into the water. You have to get your trailer, attach it to your car and then find a marina with an available slip.
And, if you've been to any marinas or boat ramp locations on a Saturday morning, then you will know that this can be a nightmare. They are over-crowded, and you will have to wait for your turn.
On top of this, when you are done, you then have to repeat the process in reverse. It makes for a tiring way to end a great day.
Pontoon Jetties offer greater security
Docking or berthing your boat or jet ski at a marina or external location can be worrisome. You cannot keep an eye on it and have no way of knowing if it's safe and secure. It could be vandalised or stolen, and you wouldn't even know.
Pontoon Jetties can be customised to your needs
Pontoon jetties themselves are great. But, with a wide range of accessories available, they are even greater! They can easily be customised to your needs and lifestyle to maximise the enjoyment they provide.
Pontoon Jetties eliminate docking fees
Lastly, marina fees are certainly not cheap. As an example, you're looking at anywhere between $550 to $3000 per month at the Southport Yacht Club Marina. And, to purchase a marina berth outright, you can pay as much as $200,000.00 at the Gold Coast City Marina.
Take away Message
As you can see, there are many good reasons to invest in a pontoon jetty at your property. They can be used for mooring, berthing or fishing, and they will add value to your Gold Coast property. Additionally, they offer the convenience of having your boat or PWC at arms reach at all times, and provide more security for your boat or PWC. Best of all, they have fabulous accessories for customisation, and enable you to kiss marina fees goodbye for good!
Really, what isn't to love about having your very own pontoon jetty.
If you believe a pontoon jetty is as good an investment as I do, then jump on the phone and give me a call – 0431 778 468. I'll happily run through your options based on your lifestyle and requirements and provide you with a no-obligation quote.