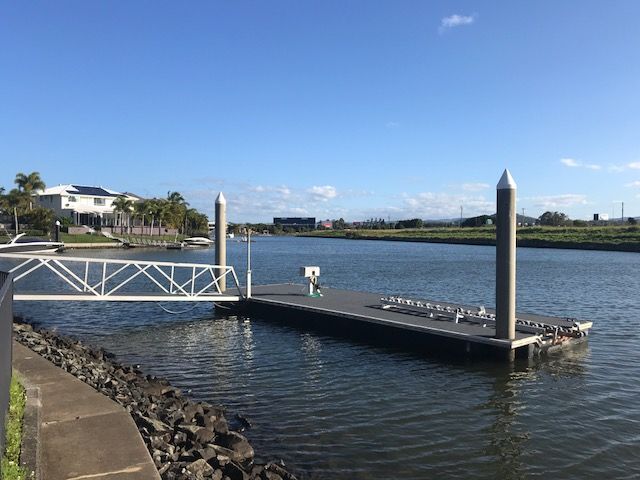 Unless you've been living under a rock, you will know that real estate on the Gold Coast is at an all-time high! Properties are selling like hotcakes and, in some cases, hundreds of thousands above the reserve! Moreover, people are paying more for waterfront properties.
In fact, according to a new article from realestate.com.au, buyers fork out 68 per cent more for Gold Coast waterfront homes, which is the second-highest figure of all major cities. Moreover, house prices for super-prime waterfront properties rose 43% nationally over the past five years, with the average cost for a Gold Coast super-prime waterfront property now sitting at $12.7 million!!
If you want to get top dollar for your waterfront property, then getting a pontoon installed will help you reach this goal.
Why is now the best time to get a pontoon?
So, why is now the best time to get a pontoon?
COVID-19 has undoubtedly been the worst pandemic that our generation has ever faced. In Australia, we have been much luckier than other countries, yet it still impacted our lives significantly. Almost 30,000 Australians contracted the virus. More than 900 lives were lost, thousands of holidays and weddings were cancelled, and in Victoria, residences were forced into lockdown for months on end.
With COVID-19 seemingly under wraps, at least for now, Australians are looking to start living again. While interstate Australians can't go on an overseas holiday, they can holiday on the Gold Coast with their own waterfront holiday home. Which is what current figures suggest they are doing.
Knight Frank global buyer survey revealed that 40% of people are more likely to buy a waterfront residence now than they were before COVID-19. This increase is a clear reflection of the change in buyer's attitudes towards securing a resort-like lifestyle at home.
Given the current demand for waterfront properties on the Gold Coast, installing a brand new pontoon may be the difference between getting absolute top dollar or being overlooked for another super-prime waterfront property.
Pontoons are said to increase the sale price by 10% and undoubtedly make waterfront homes much more attractive to potential buyers. Forking out $20,000+ for a pontoon that can potentially add $100,000 to the sale price seems like a very wise investment when we're talking millions.
Even if you're not looking to sell your property in the current boom, a pontoon will always add value to your home and make it much more attractive to buyers.
Buy a Pontoon from Micks Marine Maintenance
If you're looking to capitalise on the current Gold Coast real estate market, ensure you get absolute top dollar for your waterfront property by having Micks Marine Maintenance install a new pontoon or refurbish your existing pontoon back to its former glory.
With more than 20 years of experience behind us, we have the knowledge and know-how to design and engineer a pontoon for your property. We specialise in piled pontoons but can also offer cost-effective options in the likes of cable pontoons and strut pontoons, perfect for getting more bang for your buck at sale time.
When you deal with us, you need only to sit back and watch us do all the work. From the design and council approvals to construction and completion, we take care of everything for you.
Conclusion
We have all been struck by COVID-19, some more than others, but we're bouncing back, and we're doing so by buying up property. New figures show that Australians are 40% more likely to buy a waterfront property now than before COVID-19. This demand has led to super-prime waterfront properties rising 43% nationally over the past five years.
The average cost for a Gold Coast super-prime waterfront property now sitting at $12.7 million, and adding a pontoon to a property can add as much as 10% to the sale price. Therefore, it only makes sense to maximise your sale price and capitalise on this current surge by having getting pontoon installed at your Gold Coast waterfront home.
For this, turn to the Gold Coast's pontoon experts, Micks Marine Maintenance. We service the entire Gold Coast, including waterfront properties along Currumbin Creek, Coral Sea, Pine Lake, Burleigh Lake, Swan Lake, Lake Orr, Lake Heron, West Lake, Lake Hugh Muntz, Robina Waters, Clear Island Lake, Nerang River, Biggera Creek, Paradise Lake, and Coomera River.
Call us today on 0431 778 468 for a free quote.