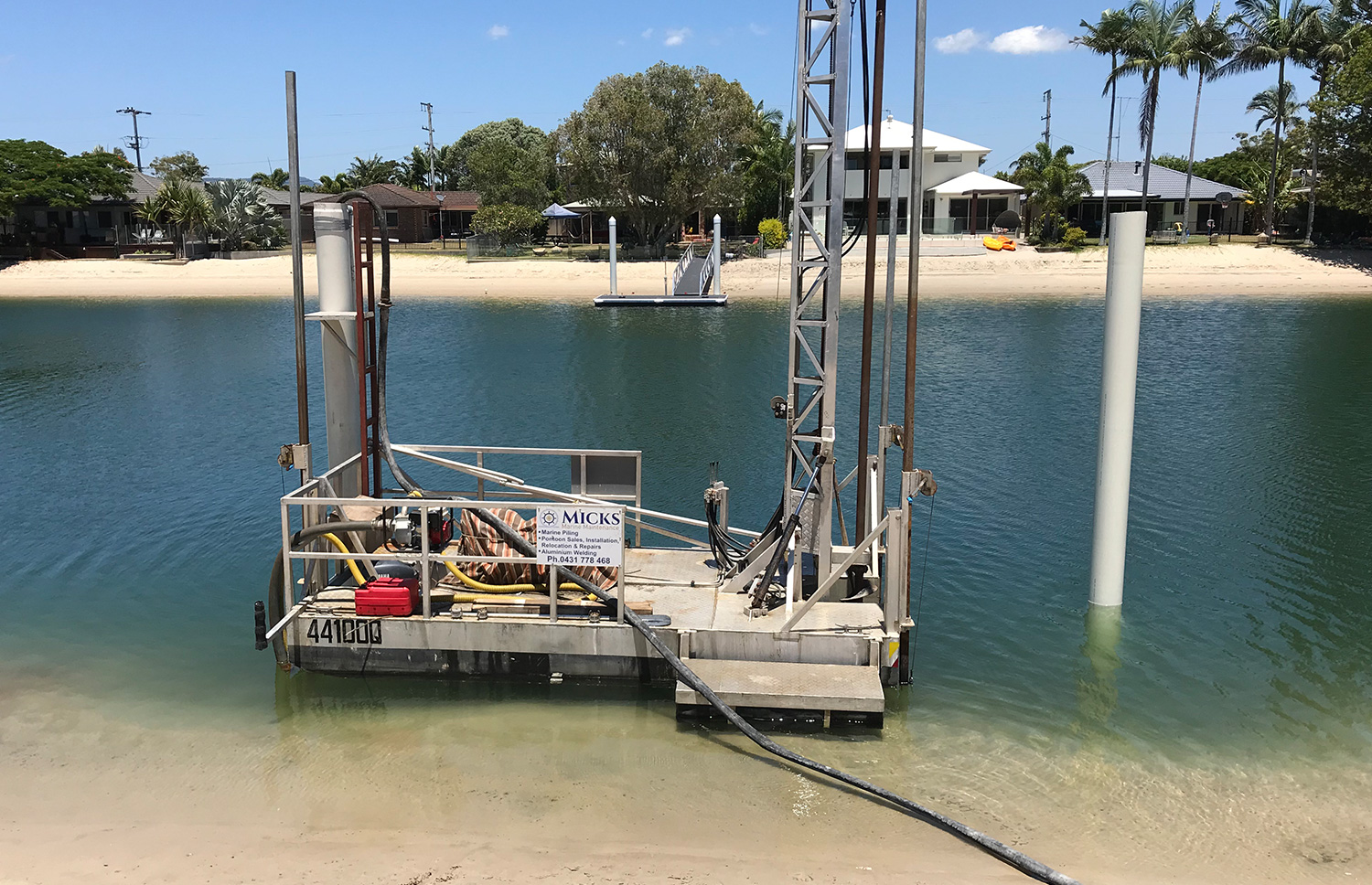 As mentioned in one of my earlier articles, there are many types of floating pontoons in the market today. There are strut pontoons, cable pontoons, and piled pontoons, to name a few, but it's the piled pontoons that we will focus on in this article as they are those which require marine piling.
If you are unsure what piling is or how it is used in the construction of floating pontoons, don't worry. Continue reading this article and all will be revealed.
What role does piling play in the construction of a pontoon?
First of all, if you're not familiar with what piling is or how it aids a pontoon, then I should explain. Marine piling is a part of the construction process where large piles (think of these as long column-like structures) are set deep into the ground below the seabed to provide the foundation and support for marine construction. This is also known as a deep-set foundation. Piling can be used in the development of several projects including mooring piles, fixed jetties, private jetties and of course, floating pontoons.
In terms of the role in which they play in the construction of a floating pontoon; piling – usually two or three piles – are erected to fix a pontoon into position. Pile brackets are then placed around each pile which allows the pontoon to float up and down, but always in position, with the tide.
Piling provides a robust foundation for a floating pontoon which is superior to strut pontoons and cable pontoons
What are the available piling options?
Now that you know what piling is, it's important to understand that not all pontoons have or require piles – only piled pontoons have piling. Furthermore, there are many types of piling options available.
Some of the available piling options include wood, steel, and spun concrete, and In-situ PVC (cast) piles. Wood piling is the cheapest option, however they prone to rot and decay and suffer from marine borer attack. Steel piling is versatile and easy to implement. However, they will corrode in water and are also expensive. Spun concrete piles are a viable option however still a little expensive. In-situ PVC (cast) piles, on the other hand, are affordable, robust and aesthetically pleasing, which is why we choose them as our preferred piling option at Micks Marine Maintenance.
Are piling docks better than other types of floating docks?
Just as there are many types of piling options, there are too many types of floating docks, and to say that piled docks are better than other floating docks would be inaccurate. The truth is, the best type of floating dock is the dock that best suits your water conditions and needs.
Some systems are better suited to calmer waters than others, while some are better suited to larger boats than others. You really need to take into consideration various factors to determine which type of floating dock is best for you.
If you are unsure as to whether a floating dock is at all the type of dock you require, then be sure look at the alternative options that we offer; strut docks and cable docks.
Conclusion
If you're in the market for a floating pontoon, a piled pontoon is a great choice. A piled pontoon utilises marine piling to create a deep-set foundation that holds the pontoon in place while allowing it to move up and down with the tide. There are many piling options available. However, we believe In-situ PVC (cast) piles to be the best choice for Gold Coast and Sunshine Coast waterways in most domestic applications. While piling docks are a fantastic choice, the type of floating dock you choose should always be based on your environment and needs.
If you need marine piling for a floating pontoon or another marine project, get in touch with Micks Marine Maintenance. Click here to contact us today.