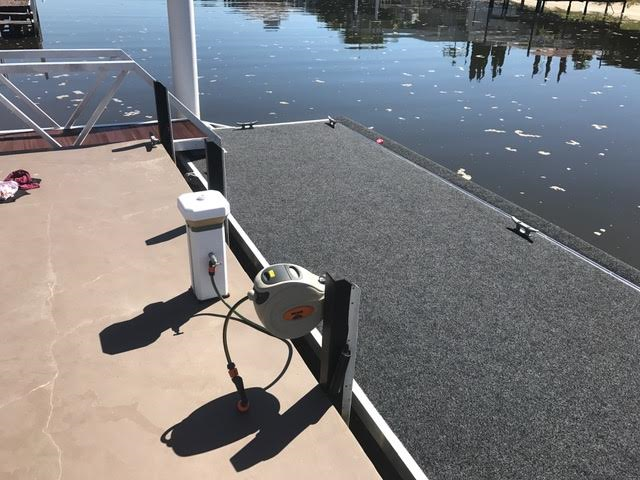 So, you've decided to buy a pontoon for your Gold Coast waterfront property? Congratulations! You've just taken a huge step towards a more enjoyable lifestyle and will be making your property more valuable in the process. However, before you jump into buying a pontoon on the Gold Coast, there are specific considerations you need to make.
Can you get approval to install a pontoon?
Before you get carried away and even start to think about buying a pontoon on the Gold Coast, you need to make sure that your waterfront property can have a pontoon installed. This is done through various local government agencies.
The rules and regulations generally apply to the maximum pontoon size allowed on the block. To find out an approximate maximum pontoon size for your block, measure the boundary and subtract 3 m. For example, a 10 m boundary would have a maximum pontoon size allowance of 7 m wide. The quay line is formed by the measurement from the edge of the revetment wall to the furthermost point of the pontoon. On the Gold Coast, this is usually between 10 m and 12 m.
What is the size of your boat?
Now you need to consider the size of your boat in relation to the maximum pontoon size allowance for your block. Will the maximum pontoon size allowance be sufficient for your size boat? We can assist you with this calculation.
Where is the pontoons intended location?
Another critical factor to consider is the intended location of the pontoon; or the location of your waterfront property. Things to consider here include the openness of the beach wind, wave height, average water level, the water depth from the coastline and also the terrain below the location of the intended pontoon. The outcome of these will determine which type of pontoon is best suited for your location.
For example, choppy Gold Coast waterways, such as those around the Sovereign Islands should consider a more robust pontoon such as piled pontoons, while areas with rough terrain, which aren't suitable for piled pontoons, are better matched with cable pontoons or strut pontoons.
What will the pontoon be used for?
It is also essential to give consideration to why you want a pontoon in the first place. What will you be using it for? Is it to fish off, to moor your boat, jet ski or PWD, or do you also intend to store (dry berth) your boat or jet ski on your pontoon?
The answers to these questions will determine which pontoon accessories you need to include in the purchase.
What is your budget?
Lastly, consider your budget. This will significantly impact the size and type of pontoon you can afford to buy. If you are on a limited budget, then a cabled pontoon or a strut pontoon are better options as they are more affordable options. However, if you have a larger budget or the cost is not a concern, then a piled pontoon would be the preferred choice.
Read 'How Much Does a Pontoon Jetty Cost' to get an idea of the cost involved.
Take Away Message
While it might be exciting to jump in and purchase a pontoon on the Gold Coast,  before you do, there are a few important things to consider. These include whether or not you can get approval to install a pontoon on your waterfront block, the size of your boat in relation to your maximum pontoon size allowance, environmental considerations in relation to the location of the pontoon, what you will be using the pontoon for and of course, your budget.
Micks Marine Maintenance is only too happy to assist you with answers to all these items and take the hassle out of buying a pontoon on the Gold Coast. Give me a call today on 0431 778 468, and let's get the ball rolling!