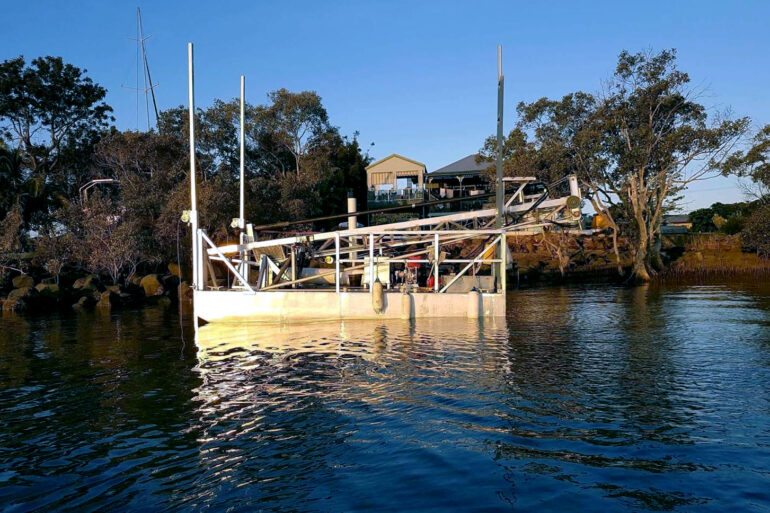 If you have done any research about pontoons, you will have found that there are many different types. Some of the most common types of Pontoons found here on the Gold Coast and South East Queensland include strut pontoons, cable pontoons and piled pontoons, which is what I'll be focusing on today.
As the owner of  Micks Marine Maintenance; a company that specialises in pontoon sales, and the maintenance and repairs of pontoons, I am just the person to educate you on piled pontoons. So, continue reading as I answer some of the most common questions people ask me about this excellent pontoon option.
What is a piled pontoon
A piled pontoon is a floating pontoon dock that is fixed in place with large piles. The piles are driven into the sea bed with a piling barge to create secure stability.
What are the piles made from
The piles of a piled pontoon can be made from various materials which include PVC, concrete and steel. Most commonly on the Gold Coast, you will find spun concrete piles, steel piles and In-situ PVC piles. It is the In-situ PVC piles that we utilise here at Micks Marine Maintenance.
In-situ PVC (cast) piles are made from PVC pipe, with a steel-reinforced spiral inserted into it. The pipe is then filled with concrete.
Spun concrete piles are pre-fabricated prestressed concrete piles, with a circular hollow section.
Steel piles are made from steel and are based on spirally welded high-quality steel pipes.
What components make up a piled pontoon
A piled pontoon comprises many elements. There's the pontoon, the piles, the gangway and a mooring block. How they connect with one another to form a floating dock is as follows;
The piles are first driven into the sea bed. The floating pontoon is then attached to the piles with pile brackets. The end of the gangway sits on top of the pontoon and runs back to shore. Here, it connects to a mooring block for stability.
How much does a piled pontoon cost
This is a difficult question to answer because, as mentioned above, various types of piles can be used, and each will alter the pontoons cost. And, along with the piles used, the size of the pontoon will obviously also affect the cost.
What I can say is, those that use In-situ piles are significantly cheaper than the same pontoon that uses spun concrete or steel piles. In fact, In-situ piles are generally around half the price of their counterparts, which is an excellent saving on the overall pontoon cost.
What locations do piled pontoons best suit
Thankfully, the majority of Gold Coast waterfront homes have shallow waters with good soil conditions, which is ideal for piled pontoons. However, the location may determine which type of pile is best suited for the pontoon.
In most cases on the Gold Coast, the In-situ PVC piles will do the job. They only need to be jetted down three and a half meters or more into the sea bed and are ideal for canals. Strut pontoons and steel pontoons are stronger and are therefore best suited for rougher locations like main rivers.
Take away Message
Piled pontoons are an excellent option for any Gold Coast waterfront home. They offer a robust floating dock solution which is superior to strut and cable pontoons, and they are highly suited to Gold Coast waterways and canals, such as those you will find at Runaway Bay, Hollywell, Paradise Point, Sovereign Islands, Hope Island, Sanctuary Cove, Helensvale, Coomera Waters, Paradise Waters, Surfers Paradise, Bundall, Benowa, Mermaid Waters, Broadbeach Waters, Palm Beach and Carrara.
If you have any questions about piled pontoons which I didn't cover in this article, please don't hesitate to give me a call on 0431 778 468.
We look forward to helping you with your pontoon enquiries.