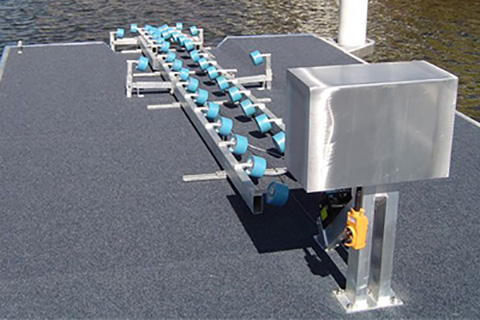 The Gold Coast is well-known for its sunny environment, contributing to our region's popularity of watersports and water activities. Exploring the Gold Coast's waterways on a jet ski is one of the most popular ways to spend a day.
The use of jet skis on the Gold Coast is getting increasingly popular. If you want to purchase a jet ski or already own one and live on a waterfront property with a pontoon, you should strongly consider investing in a jet ski roller system to help care for your craft.
While we are best known for our new pontoons and pontoon maintenance and repair service, we also provide a broad range of marine accessories. These accessories are designed to increase the overall functionality of a pontoon or jetty.
Today I'd like to look specifically at jet ski roller systems and explain why you should consider acquiring one for your pontoon and jet ski, as well as what to look for when shopping for one.
Jet Ski Roller System Benefits
There are various advantages to using jet ski roller systems. The most significant and critical characteristic is the ease of moving your jet ski in and out of the water. Jet ski roller systems are made of aluminium and have multi-wheeled rollers as well as a hinged or pivot end section allowing easy access to the water for your Jet Ski or PWC. They make launching and recovering your jet ski on and off your pontoon a piece of cake, allowing you to spend more time and have more fun on the water. This action is made even easier with an electric winch-driven system over a manual system.
Protecting your jet ski or personal watercraft from marine environments is another advantage. A jet ski roller system keeps a jet ski dry when not in use. As you are probably aware, leaving a jet ski in water exposes the craft to the elements, causing it to deteriorate over time. The jet ski's hull is protected with a jet ski roller system, keeping marine plants and barnacles from damaging it.
While a roller system not only helps to protect your jet ski, it also makes it easy to store your craft, which comes in handy for inspections and maintenance. When using the roller system, it is simple to evaluate a ski and perform any necessary maintenance to ensure that it is operating at its peak performance at all times.
A jet ski roller system also makes it easy to transport your jet ski to and from your pontoon. Making the transition from retrieving your jet ski out of the water to launching it into the water is made simple by the docking mechanism. The closest boat ramp may be a mile away; a jet ski roller system is much more convenient than loading the jet ski on the trailer and driving to the ramp.
Jet Ski Roller System Shopping Tips
Having established the reasons for purchasing a jet ski roller system, let's look at the characteristics you should seek while shopping for one.
The essential thing to remember is to make sure you get the appropriate system for your needs. A simple jet ski roller system will suffice if you want to dock your jet ski and no other watercraft or boat.
It is important to decide whether you want a manual or an electrical roller system – an electrical roller system will be significantly more expensive than a manual roller system.
A high-quality jet ski roller system should have a corrosion-resistant aluminium frame and a weight capability of at least 800kg.
Conclusion
Micks Marine Maintenance provides high-quality jet ski roller systems on the Gold Coast and would be pleased to assist you with your requirements. If you want to dry berth your jet ski on top of your pontoon, we can install a jet ski roller system – either manual or electric winch-driven – to meet your requirements.
Call 0431 778 468 or send an online enquire via the contact form on the link below.