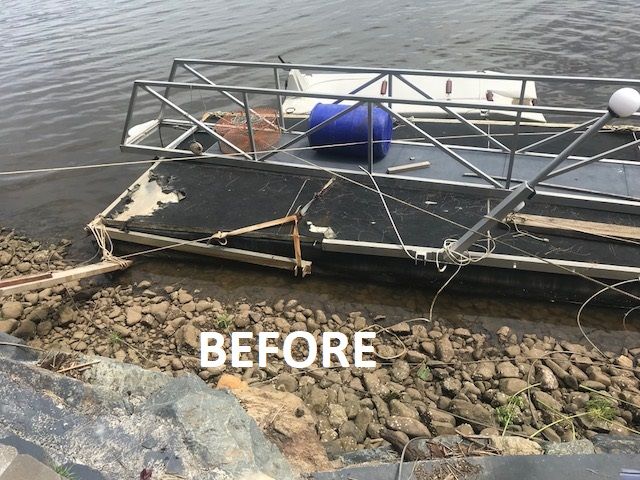 It's such a special feeling to be on a boat, sun and sea breeze against your skin. This is one of the major perks of living in marine environments.
But, making sure your boat is always running smoothly can take a lot of effort. There's a lot of time and money that goes into maintaining your boat, and for good reason – your boat is an important part of your life.
However, often your jetty, gangway or pontoon can be overlooked when it comes to maintenance. I get it, maintaining your jetty is not the fun day on the water most boat-owners imagine. And two of the most often overlooked aspects of maintenance is your pontoon walkway and carpet.
Yes, it may not seem like the most important thing, but if left for too long without maintenance your walkway and carpet can end up in pretty rough shape.
There are a lot of things that can happen if you don't properly maintain your pontoon walkway and carpet.
Carpet staining
One of the most common issues with pontoon carpet is staining. This is one of the easiest things to fix – a little elbow grease can usually lift a stain if you get to it early enough. But if a stain is particularly tough to get out it can ruin the whole appearance of your jetty.
Wear and tear
General wear and tear is expected for pontoon carpet. With the full exposure to wind, water, dirt, sand and salt, it's no wonder that your carpet may have seen better days. Most common types of wear include fraying, thinning and balding and fading. All of these can have an impact on both the look and function of your carpet and overall jetty.
Mould growths
One of the worst things that can happen to the carpet on your pontoon is mould growth. Pontoon carpets are especially susceptible to mould because of their constant exposure to water – giving mould the perfect environment in which to thrive. To battle this protection and prevention are key.
If your carpet does have mould growth, is can be tough to fully get rid of it and prevent further mould outbreaks.
Weathered timber
If your pontoon or gangway is suffering from severely weathered timber, there are a number of things that can go wrong. Warped and sagging timber can result from long-term exposure to water and sun and can affect the structural integrity of your gangway or pontoon decking.
So, how can I maintain my walkway and carpet?
Although simple repairs may be able to save your carpet, often times full recarpeting may be necessary. This is especially crucial for carpet that has serious wear and tear or recurring, stubborn mould growths.
For weathered timber, most of the time repairs can be undertaken to restore it to its former glory and make sure that the structural integrity of your pontoon walkway is maintained. In cases when the weathering damage is extreme (or maintenance has been put off for a long time) it may be necessary to replace the entire decking.
Basically, regular maintenance can prevent a whole host of issues for your pontoon and keep it looking sharp and function well for years to come.