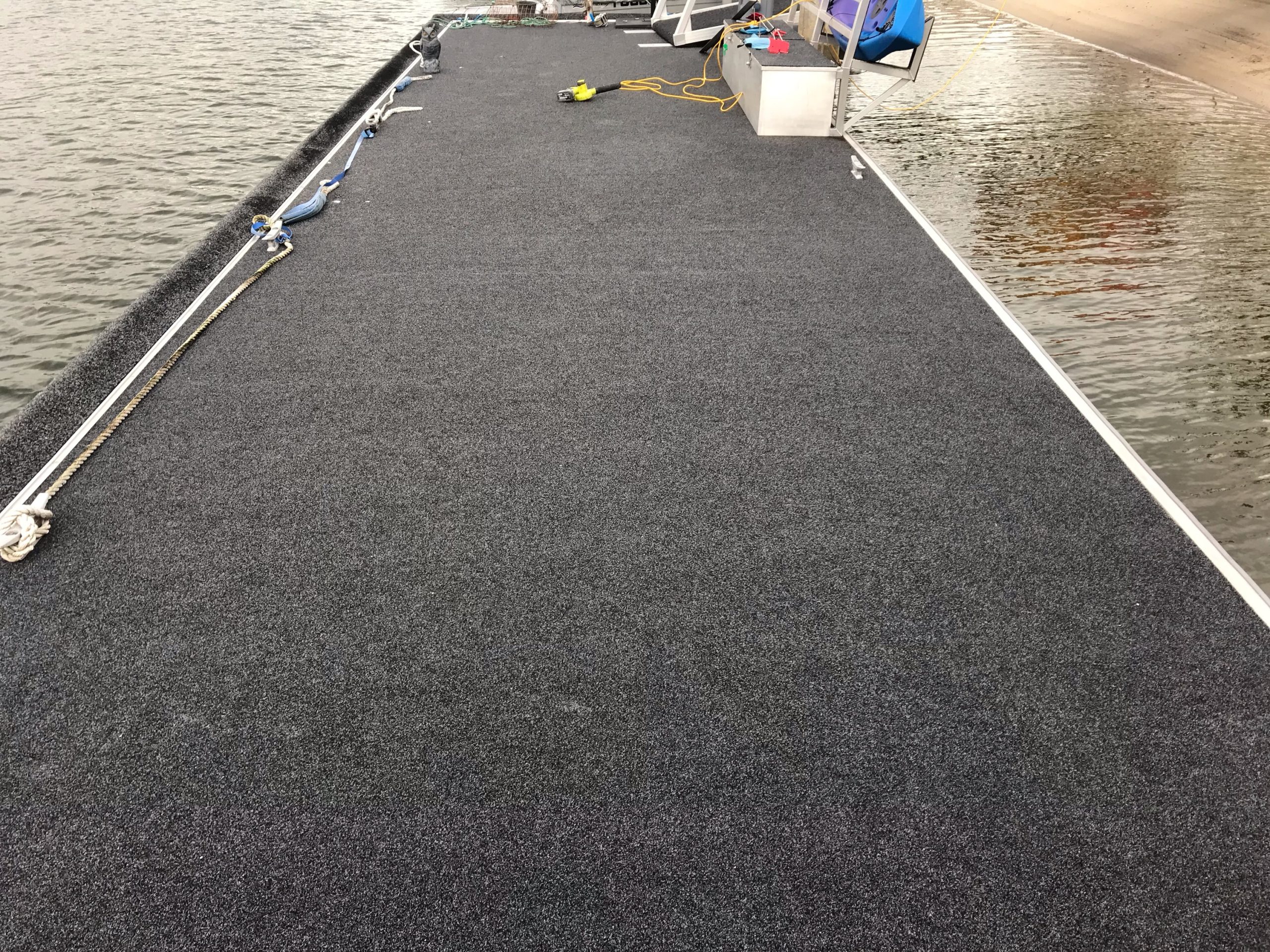 If you're into boating, then you will be very familiar with marine carpet. If you're not, let me first briefly explain what marine carpet is.
Marine carpet is a water-resistant carpet which is specially designed and manufactured for boats and marine environments. It is generally made from hard-wearing polypropylene fibre which is stain and fray resistant, and it comes in a wide selection of colours and finishes.
The robust characteristic of marine carpet makes it a popular choice for a range of applications, and you might be surprised to hear that they're not all marine-based. Marine carpet is widely used in commercial and domestic applications; in everything from clubs, hospitality and educational establishments to rumpus rooms, pool surroundings, gyms and garages.
However, seeing as though we're in the Marine Industry, and that marine carpet is intended to be used in the Marine Industry, today, we take a look at the four most common marine applications for marine carpet.
Gangways
A Gangway is a connecting platform or walkway between land and a floating dock and is a necessary component of any floating pontoon. While they can be decked with timber, those made from aluminium and covered with marine carpet are the preferred and superior choice ensuring longevity due to the fact that the aluminium will not suffer from rot as will the alternate timber option. They also happen to be our preferred choice here at Micks Marine Maintenance.
Marina carpet provides much-needed underfoot stability and slip-resistance when moving between land and sea which timber cannot provide.
Floating Docks
A floating dock is the main component of a floating pontoon and can be used for several activities including fishing, dry berthing a small boat or PWC, and for performing boat maintenance. Therefore, it needs to have a slip-resistant surface and one that can be easily cleaned. Moreover, floating docks (along with gangways) are exposed to full sunlight. The non-fade attributes of marine carpet stand up to the sunniest Gold Coast weather.
Boat Decks
Perhaps the most common of all marine carpet use is when it is applied to boat decks. Many boats feature marine carpet on the deck. This is primarily to stop slipping, but it can also add to its design. Marine carpet is available in a range of thread designs and colours to match a boat's interior. It can be hosed down after messy fishing trips and it won't mould.
Conclusion
We work with a lot of materials here at Micks Marine Maintenance, but one of my favourite of all has to be marine carpet. It's hard-wearing, water, stain and fray resistant, and extremely versatile in applications.
Marine carpet is used across industries, in both commercial and domestic applications. Though, it's intended use is in the Marine Industry. Here, it is most commonly used on gangways, floating docks, and of course, boat decks.
If your gangway, floating dock, or boat deck needs new marine carpet, pick up the phone and give Micks Marine Maintenance a call. Phone 0431 778 468 or make an online enquiry. We specialise in marine recarpeting on the Gold Coast and would be only too happy to provide you with a quote.