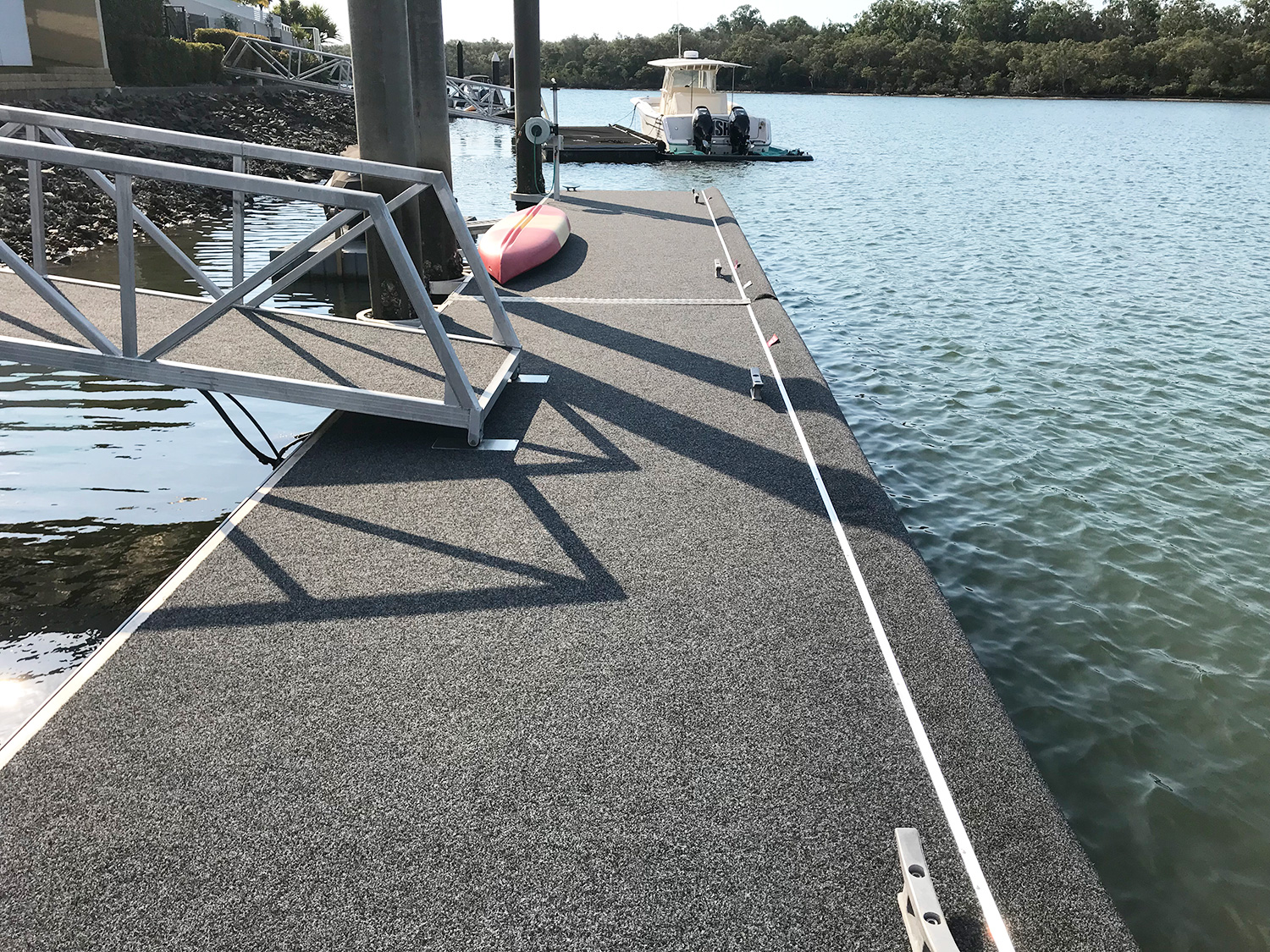 If you own a boat or a pontoon, then you will know what marine carpet is. For those of you who are new to boating, or are looking to invest in a new pontoon to dock your boat to, then there is a strong chance that both will feature marine carpet.
Marine carpet is an essential feature of most pontoons. It offers a variety of benefits, the biggest being the added safety it provides to otherwise slippery marine environments. Not all marine carpet, however, is the same. Therefore, you need to know a little about it to ensure you are getting the best value for your buck.
Continue reading this article to find out everything you need to know about marine carpet.
What is marine carpet?
Marine carpet is a low-profile carpet, which is specially designed for marine environments. It is resistant to heat, mould and mildew, easy to clean, fade-resistant, UV resistant, offers superior traction and is mostly stain-resistant.
Simply put, marine carpet is tailor-made for marine conditions. It features a robust, flexible backing to adapt to surfaces which prevent it from slipping, bunching or peeling.
Is Marine carpet waterproof?
Marine carpet is manufactured from quick-drying synthetic materials which repel moisture and water, are highly durable and are more resistant to wear and tear.
When should I replace my marine carpet?
Exposure to the harsh marine environment and the elements, along with ground-in marina grime, foot traffic and wildlife deposits inevitably cause damage to marine carpet over time. Even with regular cleaning, marine carpet needs to be replaced every 8-10 years.
When you see signs of wear, lifting edges, or mould, it's a good sign that it is time to replace your marine carpet.
If you live on the Gold Coast, then Micks Marine Maintenance are the ones to call. We specialise in marine recarpeting on the Gold Coast, and can replace your old marine carpet to have your pontoon and gangway looking as good as new in no time at all.
What is the best marine carpet?
You may be surprised to know that not all marine carpet is the same. Marine carpet differs in grades, thickness and width.
Here at Micks Marine Maintenance, our most popular carpet is a 7mm thick marine-grade carpet. It comes in a 4m wide roll, which means an entire pontoon can be recarpeted in one piece – providing the pontoon is no wider than 4 meters, which in most cases, they aren't. This means there are no joins in the carpet and eliminates the entry of water and dirt at the joins, which can result in carpet lifting over time. It also ensures there will be no shrinkage at the join, which would otherwise expose the pontoon's concrete deck to the elements.
What does it cost to have marine carpet installed?
There is no fixed cost for marine carpet installation or recarpeting.
At Micks Marine Maintenance, we customise each and every quote. We take into consideration the location, the accessories on the pontoon (which require removal and re-installation), the condition of the existing carpet to be removed e.g. some carpet has perished so much that it pulls up very easily; which in turn, takes less labour time, while other carpets may take considerable labour time to remove.
The best way to obtain a cost estimate for marine carpet installation is to contact a team that specialises in marine carpet installation, such as Micks Marine Maintenance, to provide a quote.
Conclusion
Marine carpet is an essential material for many marine environments; especially pontoons and gangways. It is specially made to be hard-wearing, water-resistant, and mould and mildew resistant, amongst other properties, to provide a safe non-slip flooring option.
If you're located on the Gold Coast or Sunshine Coast, and your pontoon needs to be recarpeted, then turn to no one else but Micks Marine Maintenance. We specialise in all pontoon maintenance, including recarpeting pontoons, and can provide you with a quote using the 7mm marine carpet mentioned in this article. Give us a call today on 0431 778 468.