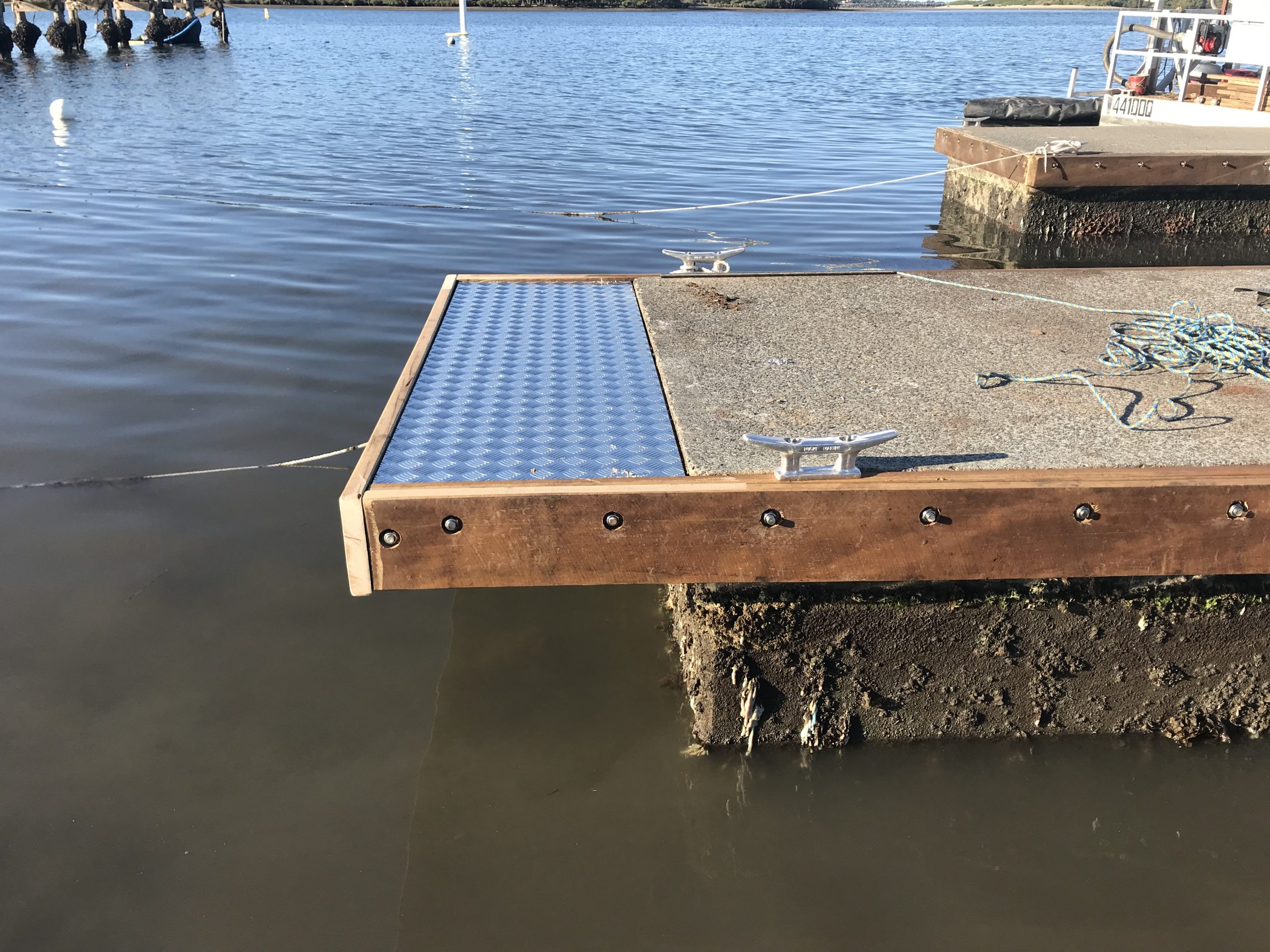 There are many aluminium fabricators on the Gold Coast. Still, there is only a handful that specialises in aluminium fabrication for floating docks. Micks Marine Maintenance is one of them.
If your aluminium floating dock needs maintenance, repairs or an upgrade, then Micks Marine Maintenance can help! With over 25 year's experience in the Marine Industry, we have earnt a solid reputation for the aluminium fabrication work we do on floating docks across the Gold Coast – whether it be onsite with our mobile welding equipment or offsite at our workshop.
What sets us apart, I believe, is the fact that we're not just aluminium fabricators; we're floating dock installers. This means we know everything about floating docks and understand how all components work together; not only the aluminium parts.
Continue reading to discover how our aluminium fabrication work can help improve your floating dock.
Aluminium Fabrication For Floating Dock Repairs
Here at Micks Marine Maintenance, all our floating docks are made from marine-grade aluminium. However, they are not bulletproof. Just like any dock or jetty for that matter, damage can be brought on by high wash, extreme low tides, lack of maintenance and impact from boats and vessles, to name a few.
Whether it's the dock's aluminium frame, pile bracket,  gangway hinge connection or the gangway's flooring, handrails, strut arm or cable wiring or aluminium pontoon accessories that need a little attention, we here at Micks Marine Maintenance have the skills, know-how and experience to get all the aluminium components of your floating dock back to 'as new' condition.
Aluminium Fabrication For Floating Dock Upgrades
It isn't just pontoon repairs that we specialise in. Micks Marine Maintenance is equipped to handle any and all floating dock upgrades that require custom aluminium fabrication.
Want to add a seat to your dock, no worries. Need a lockable storage container fixed to your dock, we can do that. Or, better yet, how about a seat with a lockable storage compartment! Want to replace rotted timber boards on your gangway with aluminium, also no problem. We can even fabricate custom kayak holders along the gangway's handrail if you like. My point is; if there is something you want added to make your floating dock even better, you simply have to ask, and we can do it!
Floating docks are a fantastic docking system for Gold Coast waterfront properties, and they're even better when fitted with custom aluminium fabrication from Micks Marine Maintenance.
Conclusion
Whether you're looking to repair or improve your floating dock, you can do so with Micks Marine Maintenance aluminium fabrication service! Unlike other aluminium fabricators on the Gold Coast, we specialise in not only fabrication work, but the entire build and installation of floating docks. This gives us an advantage over our competition as we're better aquated with floating docks and how each part works together.
We are proud of our aluminium fabrication for floating dock repairs and upgrades and have no trouble manufacturing a custom solution for your project needs.
If you're after a specialist aluminium fabricator to work on your dock, look no further than Micks Marine Maintenance. Click here to get in touch with our team.