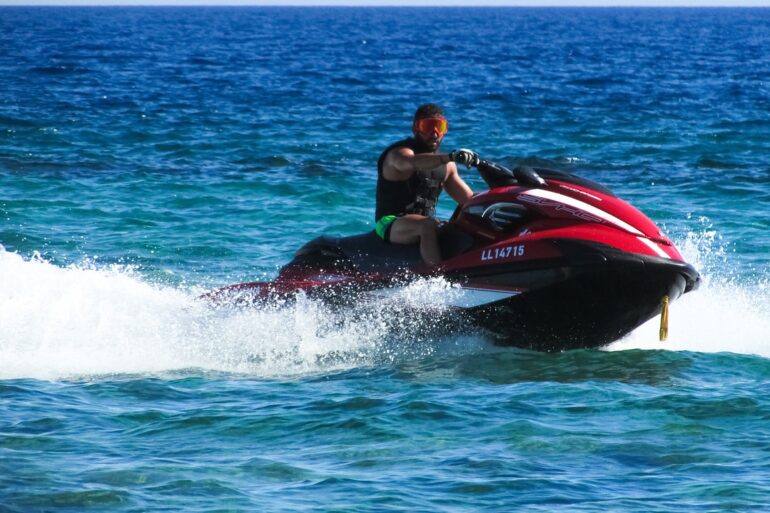 The Gold Coast is renowned for its excellent sunny climate, which is why watersports and water activities are so prevalent in our region. One of the most popular ways to enjoy the Gold Coast's waterways is via a jet ski.
The popularity of jet skis on the Gold Coast is growing at a rapid rate. If you're planning to jump on the trend or already own a jet ski, and you live on a waterfront property, then you should seriously consider investing in a jet ski roller system.
At Micks Marine Maintenance, while we are best known for our pontoons, we also offer an extensive range of marine accessories to enhance the functionality of a pontoon or jetty. For jet skis, we offer jet ski docks and jet ski roller systems. Today, I would like to take a look at jet ski roller systems in detail to explain why you should invest in one for your jet ski and what to look for when buying one.
Benefits of a Jet Ski Roller System
Jet ski roller systems offer many benefits. However, the most significant and most important benefit is that they protect your jet ski or PWC. A jet ski roller system provides a dry berth for a jet ski. As you know, it is not good to keep a jet ski in water as it exposes the craft to the elements which result in wear and tear. The jet ski roller system protects a jet skis hull and prevents damage from marine plants and barnacles.
In addition to protecting your jet ski, a roller system offers convenient storage for your craft, which is handy for inspections and maintenance. The roller system makes a ski easy to inspect and carry out any maintenance that may be required to ensure it performs at its best, at all times.
A jet ski roller system also offers convenient loading of your jet ski onto your pontoon. The docking technology makes easy work of taking your jet ski out of the water and launching your jet ski into the water. It is an easier option than a boat trailer which needs to be driven to the boat ramp and back.
What To Look For In A Jet Ski Roller System
Now that you know why you should invest in a jet ski roller system let's take a look at what you need to look for when buying one.
The most important aspect is to make sure you buy the right system for your needs. If you only intend to dock your jet ski and no other watercraft or boat, then a standard jet ski roller system is sufficient for your needs.
Consider if you want a manual system or an electrical system – an electrical roller system will be a lot more expensive than a manual one.
In terms of quality, look for a jet ski roller system that features a corrosion-resistant aluminium frame and a capacity of at least 2500kg.
Conclusion
Owning a jet ski is an excellent investment. It allows you to experience Gold Coast summers from the best viewpoint – our beautiful waterways. However, to protect your investment, you need to take care of it. This is why a jet ski roller system is such a good idea.
Easily installed on a pontoon or jetty, a roller system will offer protection for your jet ski, make it easy for you to inspect and maintain your jet ski, and make loading and launching your jet ski convenient and effortless.
To purchase a jet ski roller system on the Gold Coast, contact us, Micks Marine Maintenance. We have jet ski roller systems as well as jet ski docks, which will ensure your investment is protected at all times.