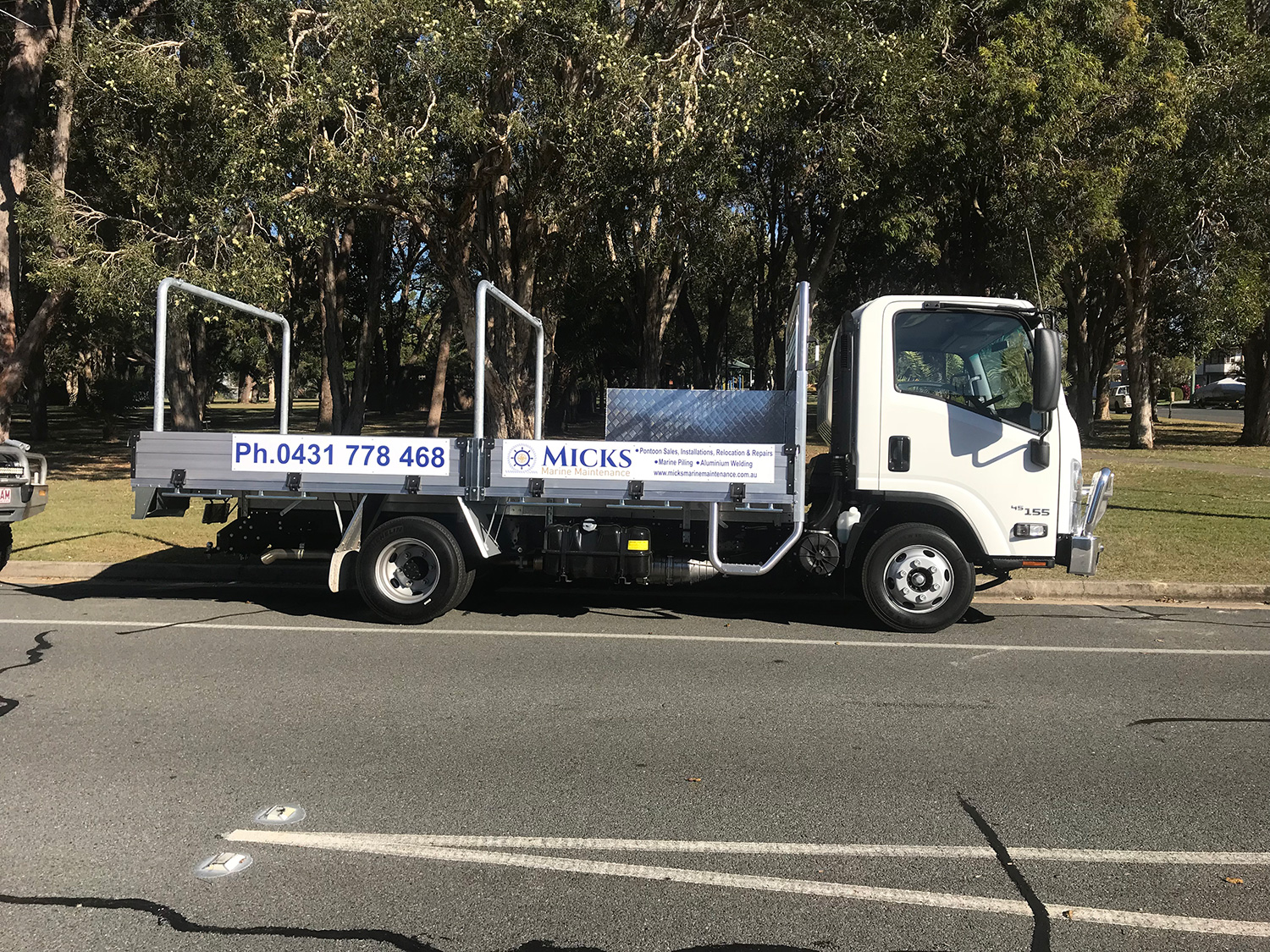 Welcome to waterfront living at its very finest!
Living on the waterfront in Sovereign Islands, Hope Island, Sanctuary Cove, Helensvale, Runaway Bay, Surfers Paradise, Hollywell, Mermaid Waters, Paradise Point, Bundall, Paradise Waters, Benowa, Coomera Waters, Palm Beach, Broadbeach Waters, or Carrara is only made the better with the addition of a pontoon.
If you're looking for pontoon sales on the Gold Coast, then you have come to the right website. As one of the coasts' leading pontoon suppliers, Micks Marine Maintenace has the experience, knowledge and knowhow to provide you with everything you need to know before you engage a company to build your pontoon.
How much does the average pontoon cost?
The first questions everyone wants to know when enquiring about pontoon sales on the Gold Coast is, how much does the average pontoon cost. Unfortunately, there is no such thing as the "average pontoon".
Pontoon sales are priced on many factors. Each pontoon build is unique and is site-specific. The site location will determine which type of pontoon and system is best suited, which also determines the cost. However, as a ballpark figure, you can expect to pay $20,000 and over for a pontoon with a gangway.
What makes one pontoon better than another?
When enquiring about pontoon sales, one of the most important things to differentiate one pontoon from another is quality; and this makes a big difference if you're comparing quotes. In other words, are you comparing 'apples for apples'?
There are certain things you will want to look for as a sign of quality. These include the following items:
125mm thick concrete deck
7mm thick marine-grade carpet
Custom aluminium frame/whaler with custom track allowing for easy installation of future accessories
Marine-grade void foam
At Micks Marine Maintenace, we only offer the highest quality materials and workmanship in the construction of our pontoons, and you can be assured that we only use the quality items listed above in our pontoons.
What are the types of pontoons?
As mentioned earlier, the site location will determine the best type of pontoon for your location. Therefore, knowing what types of pontoons are available is also important when enquiring about pontoon sales on the Gold Coast.
Generally, you have three options; piled pontoons, strut pontoons and cable pontoons. You can find out more about each of these types on our website by clicking here.
Regardless of which pontoon is best suited for your location, you can be sure that Micks Marine Maintenance will have a suitable pontoon and system to cater to your location and vessel.
What accessories come with a pontoon?
Pontoons can be included with a variety of added fittings and fixtures to better cater to your personal needs and applications.
If you are looking at getting a pontoon to dock your boat, then you may wish to include such accessories as pontoon fenders, cleats, and a roller system. If you are looking at getting a pontoon to dock a PWC or jet ski, then a jet ski roller system or jet ski dock, and a winch would be a welcome accessory. Avid Fisherman may like to have their pontoon fitted with a fish cleaning station, hose reel stand and underwater lighting.
As you can see, there are plenty of additional accessories available to customise a pontoon to your liking and needs. Best of all, whatever the accessories, you can trust Micks Marine Maintenace to provide and install it for you with your new pontoon.
Conclusion
A pontoon is one of the best additions any waterfront property can have. They really allow you to maximise your boating or waterfront experience and can be customised to suit your needs. However, if you are researching pontoon sales on the Gold Coast, then it pays to know a little about pontoons first.
While it's hard to put a figure on the average cost of a pontoon, you can expect to pay over $20,000 for a quality pontoon with a gangway. Also, know what to look for in terms of quality from a pontoon, and understand the difference between a strut, cable and piled pontoon. Lastly, know what accessories are available to ensure your pontoon is better tailored to your personal needs.