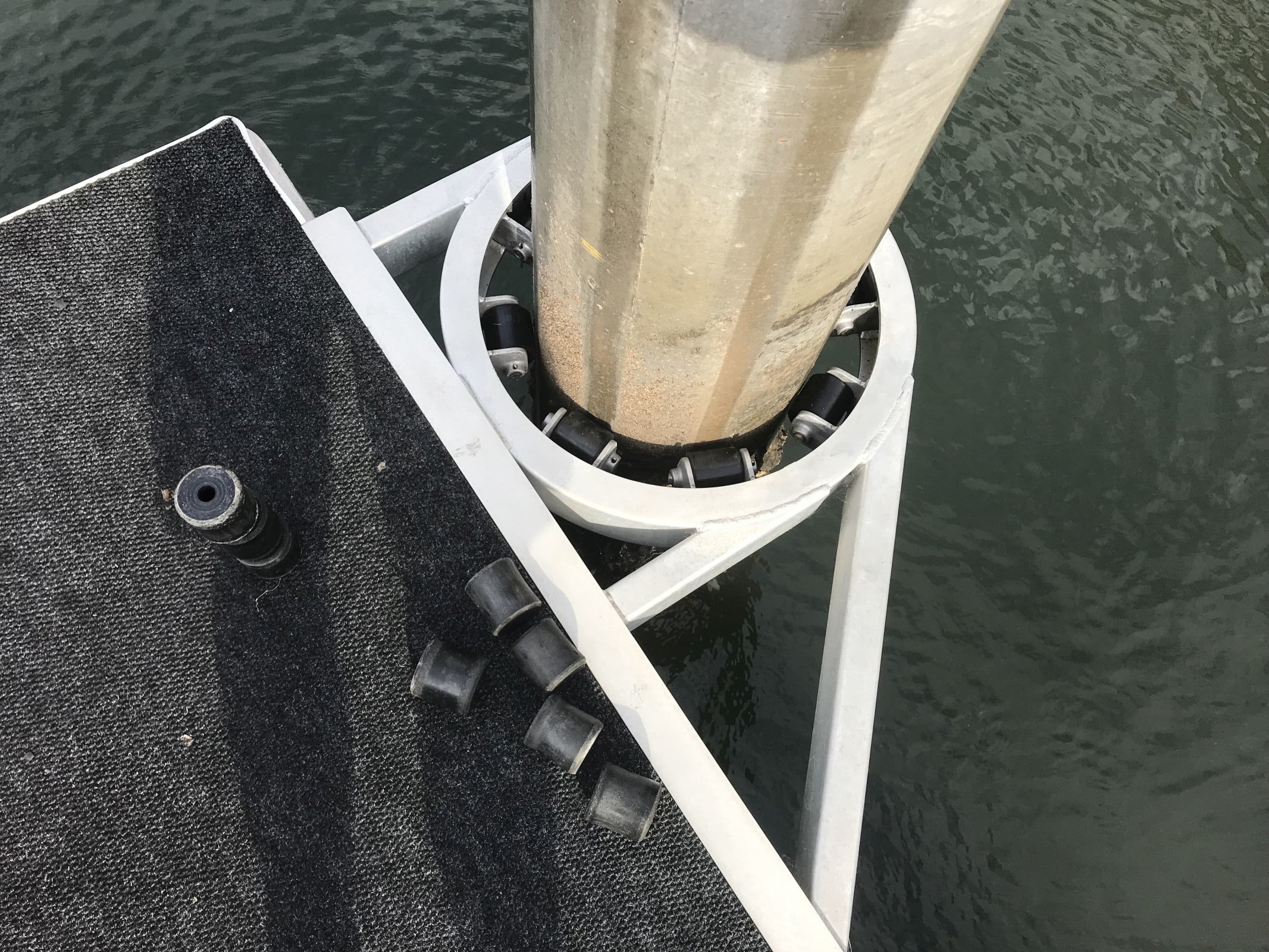 A couple of weeks ago, I shared with you how to manage and reduce pontoon maintenance, but I didn't go into a lot of detail on how to reduce your maintenance costs precisely. Today, I will.
As a specialised pontoon maintenance company on the Gold Coast and Sunshine Coast, we know all the tips, tricks, and necessary tasks required to stay ahead of severe damage. Severe damage to a pontoon can be a result of a natural weather event, in which case, it's out of your hands, but more often than not, the severe damage that we repair is simply a result of poor pontoon maintenance.
Maintaining a pontoon is just as important as taking care of your boat or car, and if done right, it will prolong the lifespan on your pontoon and reduce the cost of more significant repairs.
So, without further ado, let me share with you my top tips and trick for pontoon maintenance.
Pontoon Maintenance Tips
Check connections for wear
Pontoons are not fixed in place like jetties. They are continually moving along with the tide and flow direction of the water. Wind, waves and bad weather can put a strain on connections such as struts and cable braces, causing wear which may ultimately break the connection.
Check all elements of the connection: stainless steel cables, hinges, bushes, fixings and mooring blocks, for signs of wear. It is much cheaper to repair than to replace!
Inspect your pontoon regularly
In addition to inspecting the connections, your entire pontoon needs regular inspections – this includes the gangway.
Check to make sure your pontoon is secure and that there are no loose or missing fixtures. Also, check for debris. If you have a piled pontoon, pay careful attention to the wear of the pile rollers and the roller brackets. Worn piles are far easier and less expensive to replace than entire pile brackets
Pontoon Maintenance Tricks
Removing mildew and stains from marine carpet
The most common question we are asked is how to remove mildew and stains from marine carpet.
The best advice we can give is to refer to the manufacture's cleaning guide. If you don't follow the suggested cleaning methods, your warranty may become void.
Here at Micks Marine Maintenance, we most often rely on Bautex Crusader for all our marine carpet installs unless something different is required to be matched or a customer requests an alternative. Providing you have Bautex Crusader, the recommended care instructions to remove mildew are as follows:
"Sponge with a solution of carpet shampoo working from well outside the stain in a circular motion towards the centre (this avoids spreading the stain). Sponge afterwards with clean warm water and mop excess moisture with a clean dry cloth or sponge. Allow to dry then brush gently with a soft brush. If any stain remains, sponge with a solution of one part household bleach to six parts clear water. Thoroughly rinse after treatment."
Bautex provides a comprehensive cleaning guide removing a range of stains including wine, drinks, grease, mud, oil, amongst other stains. You can download the care instructions for Bautex Crusader marine carpet here.
Rejuvenating cloudy aluminium
Did you know you can make old cloudy aluminium look as good as new again? Well, you can! For this, turn to the magic of Ali Brite. You can pick this up at Supercheap Auto for under $20. It's an aluminium cleaner that will clean, deoxidise, and brighten aluminium to bring it back to its former shining glory.
Cleaning aluminium pontoons
General cleaning of an aluminium pontoon is easy and requires no agents or chemicals. Simple soapy water and a broom will do the trick. We recommend you give your pontoon and gangway a clean down at least once every couple of months. Using a pressure cleaner is a handy tip to get the job done quicker.
Conclusion
Pontoon maintenance is a must. Whether you do it or we do it for you, it's essential to care for your investment to ensure it provides the intended longevity.
The best tips we can provide are to check the connections for wear, treat the surfaces and inspect your pontoon regularly. For some handy tips; use a product such as Concrobium Mould Control to clean mould from marine carpet, use Ali Brite to make tired aluminium shine like new, and use soapy water and a broom to clean down your pontoon after use.
If you have neglected your pontoon and it's beyond general maintenance, then give Micks Marine Maintenance a call on 0431 778 468. We are pontoon maintenance experts and can repair most pontoons to their former glory.