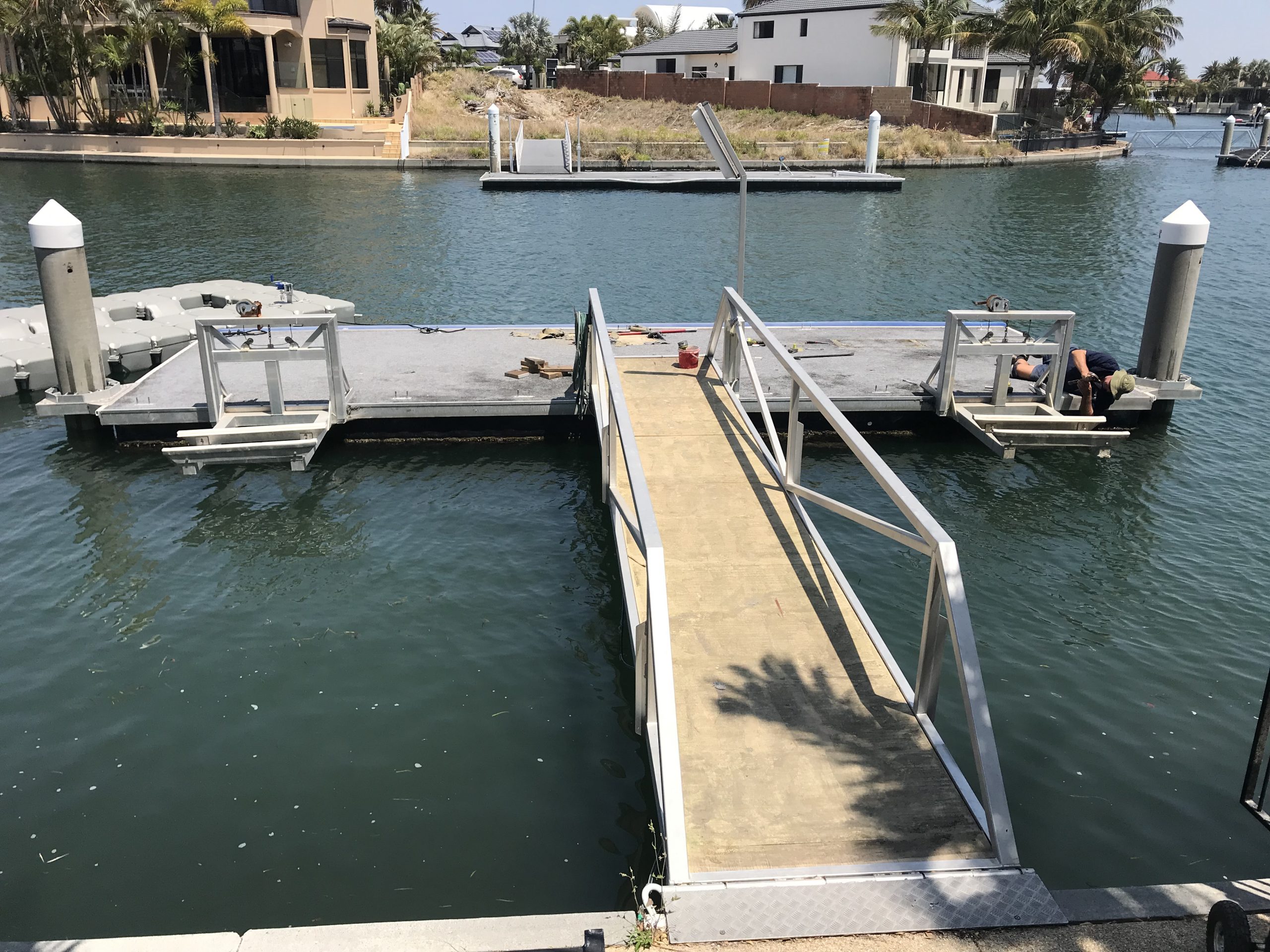 At Mick's Marine Maintenance, not only do we install new pontoons but (as our name suggests) we also maintain and repair old pontoons. Just like a car, a pontoon requires regular servicing to ensure it lasts the test of time. If neglected, then as with a car, you're going to experience issues which could cost a lot more than the cost of a service.
Pontoons should be serviced by an experienced marine maintenance team every 12 months to ensure the intended longevity is attained. Micks Marine Maintenance is just the team to conduct such a service. We have a wealth of experience behind us and know the ins and outs of gangways and pontoons. We thoroughly inspect all components of a pontoon to ensure it is well-maintained and functions as intended.
Our pontoon maintenance checklist is long and thoroughly checked. Continue reading to discover what we look at when we service a pontoon. You can print this out and check it against your own pontoon – you may be surprised with what you see.
Gangway Inspection
The first area we check is always the gangway as it is the connection between land and the dock. The entire gangway is checked for any corrosion or cracking. We check the gangway hinge connection, the deck, the handrails, gangway rollers and carpet if the gangway is carpeted.
Common problems with gangways include rotted plywood or timber, broken hinge connections and handrails, worn gangway rollers and worn carpet. Check each of these components of your gangway and give us a call if you see any signs of damage.
Pontoon Connection Inspection
Once we have inspected the gangway, we then move onto the pontoon connection. We check strut arms for corrosion and sturdiness and cables to ensure they are adjusted tightly and for any signs of wear and fraying of the cable. We inspect the turnbuckles to ensure they have not rusted away in the case of galvanised turnbuckles. We also inspect the mooring blocks to ensure the strut or cables are securely connected and that there is no damage. For piled pontoons; we check the pile brackets for any damage including cracking of welds, the pile rollers are checked for wear causing the roller to have a concaved appearance which results in an increased space between the roller and the pile causing the bracket to bang on the pile instead of rolling which over time can cause damage to the aluminium lugs within the pile bracket that house the rollers. We also check the piles are free of barnacles to ensure the rollers can move up and down freely, and we check the pile caps.
The image below shows the disastrous result of barnacle buildup. This could have easily been avoided, had the owner regularly checked the piles for barnacles and removed them. Regular barnacle removal is important as once your pontoon is in this position it becomes very dangerous not to mention the damage that can occur due to the strain of having all that weight suspended on a pile bracket.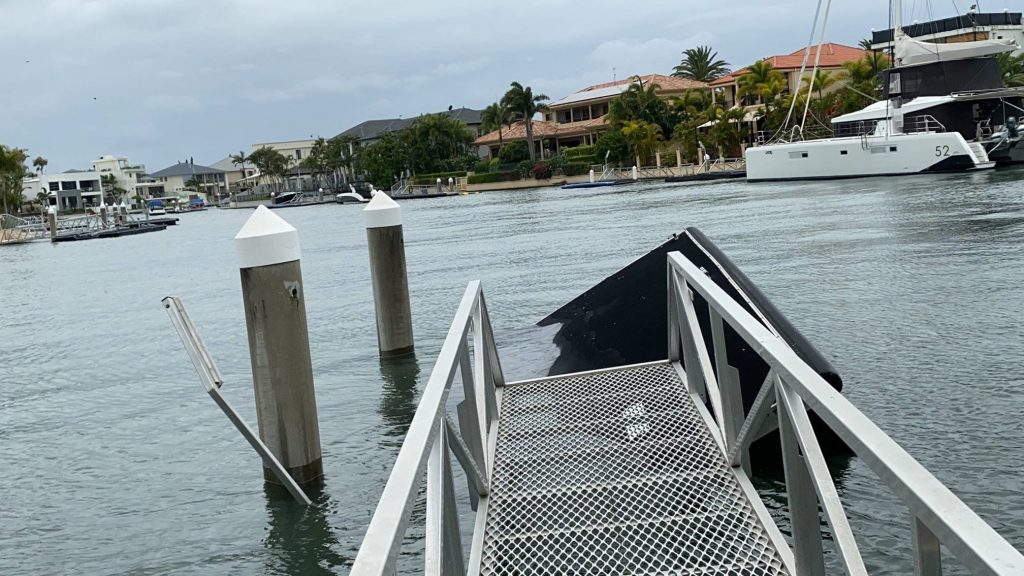 Floating Dock Inspection
Next, we turn our attention to the floating dock component of a pontoon. Again, we inspect the carpet, if worn, perished or lifting from the pontoon, replacement marine carpeting is recommended. We check the deck, the lining, aluminium components for corrosion, and we also check to see if there are any safety hazards.
Pontoon liners are pretty robust; however, they can sometimes suffer tears, holes, impaling of foreign objects. Pictured below is a pontoon liner repair we completed late last year.
Accessories Inspection
Lastly, we inspect the pontoon's fixed accessories for any wear or damage. This includes checking any custom aluminium fabrication work, fenders, cleats, winches, and roller systems.
Conclusion
Pontoons are a fantastic asset for any waterfront boat owner. However, like a car, they need to be serviced and maintain to provide longevity.
At Micks Marine Maintenace, we specialise in pontoon servicing and repairs and perform thorough inspections of all components including the gangway, pontoon connection, the floating dock and accessories.
If you haven't had your pontoon serviced in the last 12-months, then its time that you did! Give Micks Marine Maintenance a call today for a free quote. We can inspect and repair any issues with your pontoon to bring it back to its former glory. Call us today on 0431 778 468.