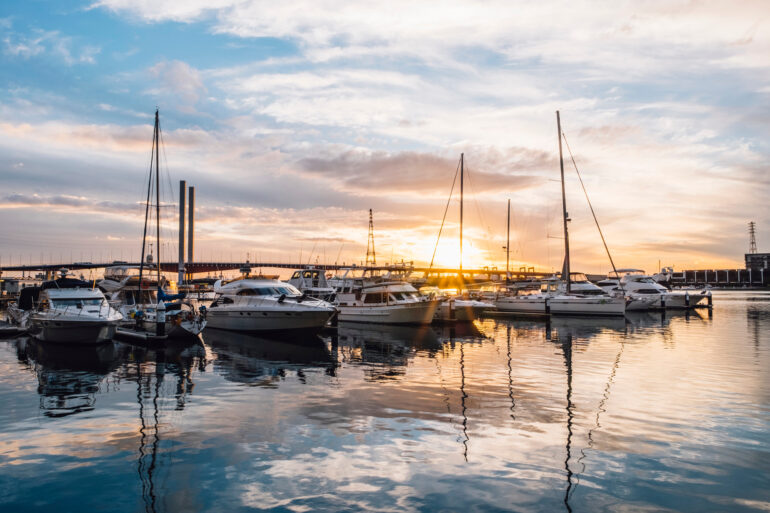 There are a couple of boat docking options when it comes to waterfront living. For example, you can invest in having a pontoon dock installed, or you can pay a monthly or annual fee to dock your boat at a marina.
So, which is the best option? Let's look.
Docking Cost
When it comes to the cost of docking a boat, there are a few things to consider. The first is the cost of the dock itself. A pontoon dock is a one-time investment, while marina docking fees are an ongoing expense.
The average cost of a pontoon dock ranges from $25000 and $45000, depending on the size and type of pontoon. If we compare this to the cost to dock a boat at a marina, we can see that this is a one-off cost compared to the annual fees for marina docking.
Marina docking fees generally range from $600 – $3000 monthly or $5000 – $30000 annually, depending on the size and location of your boat slip. For example, looking at the Southport Yacht Club's marina pricing, a 33ft / 10m double berth will set you back approx. $672.00 monthly or $5,860 annually as a member. Meanwhile, a 82ft / 25m single berth costs $3,262 a month or $30,252 per year. In just one year, you can pay more than you would for a lifetime of having a pontoon dock.
So, which is the better option? Well, it may not be so clean cut. It depends on your needs and budget. For example, if you purchase your pontoon dock outright, the investment cost is more than compensated for by the savings made from marina docking fees. However, for those who may only need to dock a boat for a short period, a marina may be the better option.
Convenience
Convenience is one of the most important things to consider when tossing up between investing in a pontoon dock or paying for marina docking.
A pontoon dock is literally in your backyard, whereas a marina usually requires you to travel by car or foot to get to it. Even the most convenient marinas are at least 10 minutes away. So, if time is money, consider what will save you more.
Rolling out of bed on the weekend to go boating seems so much easier when you simply have to walk a few meters to your boat. Ditto for the end of the day, making coming home all the more convenient.
Long-Term Reward
If you look at each option in terms of an investment, one comes out as a clear winner; a pontoon dock.
This one-time investment will give you access to all sorts of benefits and will provide value for years down the road. For example, with an already established pontoon dock, you'll save money by not having to pay for expensive slip fees or annual maintenance fees necessary at most marinas. Another benefit is having access to your boat without paying for expensive launch services.
A pontoon dock will also add value to your property by allowing you and your family or friends a place to spend time on the water from the comfort of your own home, rather than using public docks that are often overcrowded with other boats. Another benefit recommended by many pier owners is the sense of security that comes with having your boat at home
The bottom line when it comes to pontoon docks vs the cost of marina docking is that you're virtually guaranteed to make your money back in no time. You'll also enjoy all sorts of perks and benefits that come with having a dock installed on your property. There's only one way to go, and that's with a pontoon dock.
Conclusion
In conclusion, both pontoon docks and marina docking have their benefits and drawbacks. However, when comparing the cost of a pontoon dock to the annual fees for marina docking, it is clear that a pontoon dock is a more economical option in the long run. Additionally, a pontoon dock offers greater convenience as it is literally in your backyard, whereas most marinas are located 10 minutes or more away from the property owner's home. Finally, a pontoon dock adds value to your waterfront property and provides access to all sorts of benefits not found at most marinas.
If you're looking for an affordable, convenient and long-term option for docking your boat, then look no further than a pontoon dock from Micks Marine Maintenance.
Contact Micks Marine Maintenance today to learn more about our pontoon docks and how we can help you get the most out of your waterfront property.