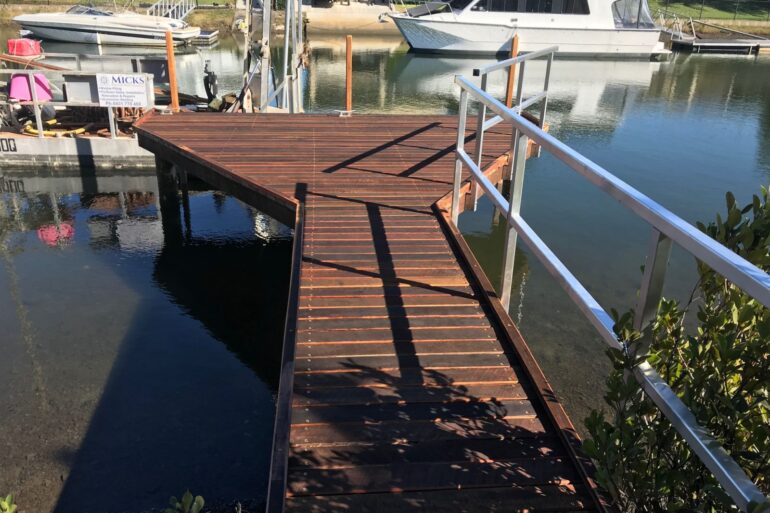 While not so prevalent today, in the '90s and earlier, jetties were the primary boat docking choice for waterfront properties. And, it's easy to see why. They are easy to build, affordable, and provide the structure and stability needed to support boats and vessels of all sizes. However, there is one significant downside to jetties; their longevity.
Unfortunately, jetties are made from timber, and over time timber and water don't go well together. What initially appeared to be the perfect structure soon showed its blemishes in the form of timber rot.
What Causes a Jetty to Rot?
Rot fungus develops in sea climates, causing a jetty's timber decking and piles to rot away entirely if unaddressed. Jetties are prone to timber rot, which is difficult to avoid or regulate. "It essentially calls for eliminating or modifying the circumstances that allow the formation of rot fungus," according to the Oregon State University Extension Marine Advisory Program.
Clearly, in such environments, these circumstances are beyond one's control. As a result, the only method to deal with timber rot is to remain on top of it or restore it. Regular maintenance, as needed, will ensure that the jetty remains safe and functional.
However, failure to regularly maintain a jetty; replace docks, rafters, and beams as they show signs of rot, will require more severe restoration. Unless, of course, the piles also exhibit timber rot. In that case, the jetty's structural integrity may be compromised, and you're probably better off replacing the jetty rather than restoring it.
Steps To Restore a Jetty
If you've let your jetty go to the point that it required more attention than a bit of maintenance, then you'll need to know how to go about restoring it.
The first step is to inspect the entire jetty, above and below thoroughly, to identify which and how many boards, rafters, and beams need replacing.
The second step is to make a list of the boards, rafters, beams you require and purchase hardwood to replace them. You'll want to choose between H3 and H4 ACQ, H3-H6 CCA and PEC-treated timber. These hardwood timber species conform with all the requirements of Australian standards for jetty and wharf construction. Don't forget; you will also need marine-grade screws, nuts and bolts. Choose between either hot-dipped galvanized or stainless steel. Our preferred is H4 timbers and stainless steel fixings.
Step three is to start removing the rotted timber to make way for the new replacement. If you need to get down to beams and rafters, you must first remove the decking boards above. The key is to work backwards from the jetty's construction.
Once you have replaced all rotted rafters and beams, you can fix the new decking boards to the structure to complete the restoration.
The photos below were taken from one of our most recent jetty restorations – we had to strip it back to its piles due to the severity of the rot; practically had to start over.
What to do if your Jetty is Beyond Repair
As mentioned above, severe timber rot to jetty piles will likely compromise the jetty's structural integrity. And, when the piles need replacing, it's often cheaper and safer to replace the entire jetty.
If you inspect your jetty and see rotted deck boards, rafters, beams, and piles, it's time to start budgeting for a replacement. Now, you can simply replace like for like and have a new jetty installed. However, doing so means you're likely going to face the exact same problem again in the future. Remember, we cannot eliminate or modify the circumstances that allow the formation of rot fungus. However, we can eliminate and modify the material that rot fungus attack; timber.
Why not choose an aluminium pontoon rather than a timber jetty that will rot again? This way, you can rest assured knowing your boat docking choice will offer superior longevity and require little to no maintenance along the way.
Conclusion
If you've let your jetty go to the point that it needs to be restored, then the process is fairly straightforward, providing the jetty's structure integrity (piles) haven't been severely compromised.
To restore a jetty, simply replace the rotted decking boards, rafters and beams with hardwood timber species and be sure to use either hot-dipped galvanized or stainless steel screws, nuts and bolts.
Consider replacing your jetty with an aluminium floating pontoon if you find severe rot beyond restoration. Aluminium won't rot and will offer you excellent longevity,
Whether you need help restoring your jetty or you're interested in replacing it with an aluminium pontoon, Micks Marine Maintenance is the team to call. Get in touch with us today for a no-obligation chat about your requirements.