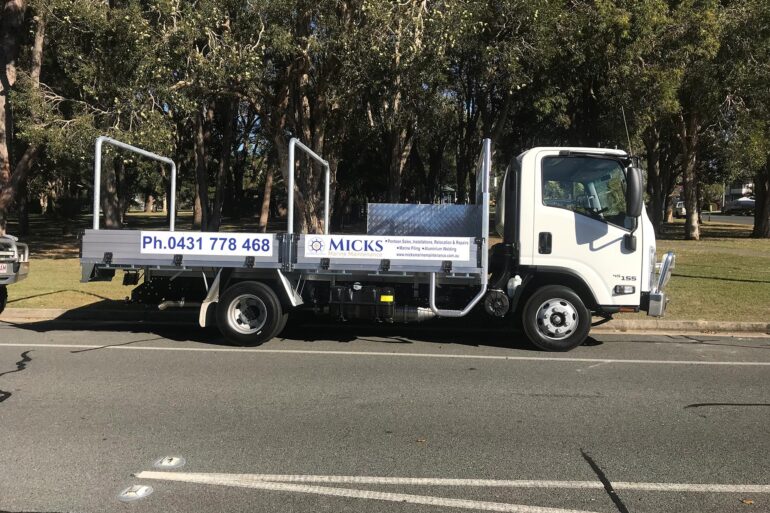 There are many benefits of waterfront living. However, there are many more if the property has a pontoon dock. Pontoon docks are a gateway to fun and experiences, and they're the true symbolisation of what waterfront living is all about. Getting out on the water with friends, tinny fishing in canals, and taking the jet ski out for a spin are just some of the activities pontoon docks provide.
So, it's only natural that if you do move house, you'll want to bring your pontoon with you. Pontoon docks aren't fixed structures like jetties, so you can pick them up and take them with you! However, you'll need to know how to relocate a pontoon dock. And, moving home isn't the only reason to relocate a pontoon dock. With the popularity of Facebook Marketplace, Gumtree and eBay, we've helped plenty of people who have purchased a second-hand pontoon and moved it to their new home.
As pontoon experts, pontoon relocation is one of the services we offer, and we've helped owners relocate pontoon docks for various reasons. Whether you're moving and bringing your pontoon dock with you or have bought a second-hand pontoon dock and need to move it to your home, pontoon relocation is a necessity.
Today, we will look at the options for relocating a pontoon dock so you can find the best solution to your pontoon relocation project. I'll cover moving the pontoon via sea and land.
Relocating Factors
Relocating a pontoon is relatively easy, whether via sea or land. However, there are a few things you need to consider ahead of the move to ensure everything is ready at the final destination.
You do still need to consider other factors like:
The piles (if it's a piled pontoon)
The mooring blocks
The gangway
Local approval and engineering requirements
If you're relocating a piled pontoon, understand that the piles remain behind in most cases as the cost to remove outweighs new ones. They're fixed structures, hammered deep into the seabed, and they're not going anywhere!
Whether piled, strut arm, or cable, all pontoons use land-installed mooring blocks for support. They're also not going anywhere. Therefore, you will also need to ensure you have matching mooring blocks installed at the destination location.
Lastly is the gangway, which is only attached to the pontoon dock and must be detached for transportation. This task is straightforward. However, how do you transport it? In most cases, whether you choose to transport the pontoon dock by land or sea, you can secure the gangway on top of the pontoon and transport them together.
Relocating a Pontoon Dock Via Land
Relocating a pontoon dock via land is often the only option, especially if the destination is far away or connected by a different waterway. This option presents more obstacles and is often more expensive.
To relocate a pontoon via land, you need to get the pontoon dock from the water to your awaiting flatbed truck, which can be a mission. In most cases, you must first move the pontoon dock via water to a location accessible to the truck and cranes, if required for loading
Once the pontoon dock is loaded onto the truck securely, you can then carefully transport it to its new home.
Relocating a Pontoon Dock Via Sea
Relocating a pontoon dock via sea won't always be viable. However, if this is an option, it's undoubtedly the better option of the two.
To relocate a pontoon via sea or water, point A (the pontoon's current location) and point B (the pontoon's final destination) must be continuously joined by water. Meaning, you can get from point A to point B by boat, without any land obstructions.
Both points need to be on the same waterway for this relocation option to work. So, chances may be slim, but it is definitely the cheaper and easier option of the two.
If it is possible to relocate a pontoon dock via sea, the process is as straightforward as pushing it from A to B, either by another boat or a barge, like the one we use at Micks Marine Maintenance.  Ok, so maybe it isn't that straightforward.
Call on Micks Marine Maintenance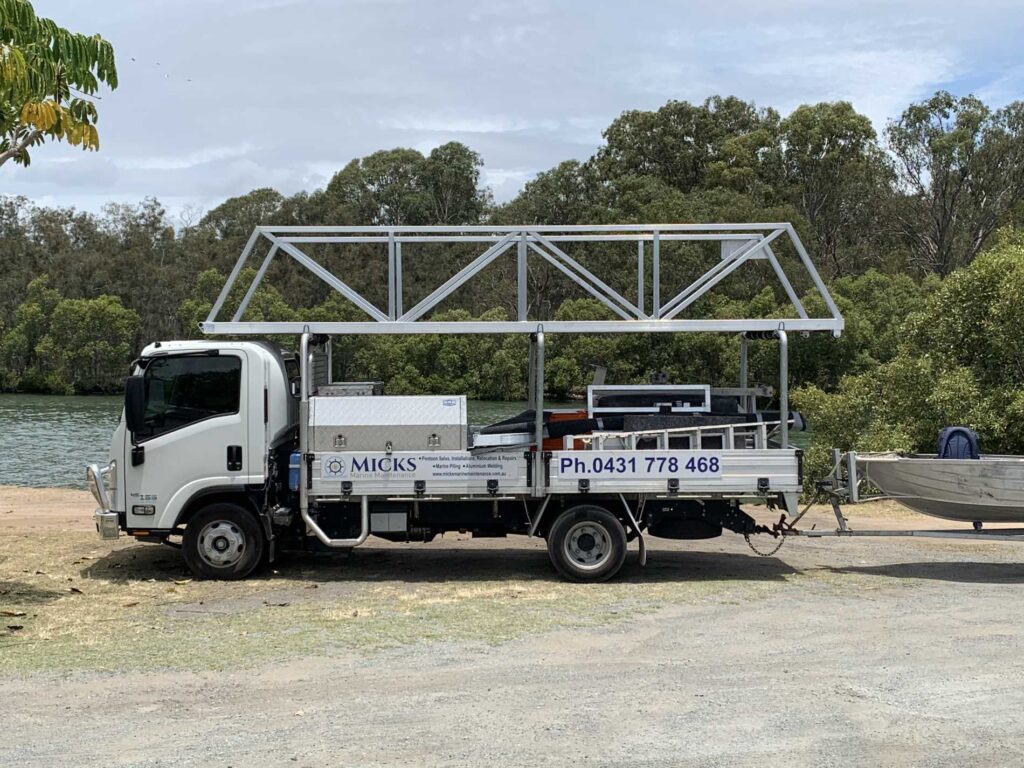 Relocating a pontoon dock isn't a job for a Saturday afternoon. It takes much planning and requires assistance from professionals. Micks Marine Maintenance is just the team to call to help you relocate your pontoon. Aside from having years of experience relocating pontoons, but as pontoon manufactures, we have the tools and equipment needed to help get the destination ready for the pontoon docks arrival.
Our custom push boat is perfect for sea pontoon relocations or can assist in moving your pontoon dock to a suitable location to be loaded onto a truck. In addition, we have the skills and insurances in place needed to ensure all factors are considered to safeguard the relocation.
We specialise in piled pontoons and will have no trouble installing new piles to support your pontoon dock. Additionally, we can install sturdy mooring blocks to support the pontoon dock's weight and the water's strength. These are some of the critical components of pontoon relocation that must be perfect for success.
Conclusion
Pontoon docks offer so many benefits to waterfront living that it's no wonder so many people want to take them with them when they move home. It's also little wonder why so many people opt to save some money and purchase second-hand pontoon docks. However, pontoon relocation is required to get the pontoon from point A to point B in both cases.
There are two options for relocating a pontoon; you can move it via land or sea. and both options will involve moving the pontoon via sea whether it's from point A to B or to a nearby boat ramp before it can be loaded onto a truck.
Relocating a pontoon dock via sea is the more accessible and cheaper option of the two; however, it is obviously only suitable when points A and B are joined by water.
There are other considerations to make before transporting the pontoon dock, including having new piles (if applicable) and new mooring blocks installed. You also have to work out how to transport the gangway.
If you would like to leave your pontoon dock relocation to the professionals, please give the friendly team at Micks Marine Maintenance a call. We have our own pushboat and have years of experience successfully relocating pontoon docks of all sizes across various distances.
Call us today on 0431 778 468 or click here to make an online enquiry.