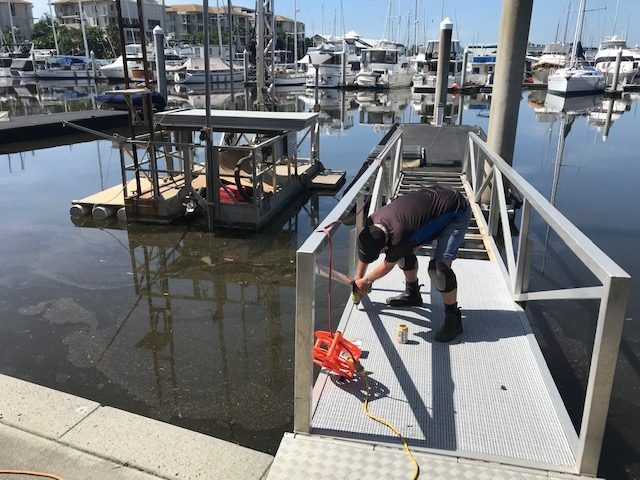 Being part of the marine and boating industry is a privilege. It's an exclusive club, which less than 20% of Australians belong to. Its exclusiveness stems from accessibility and affordability. Accessibility; because you need to own a waterfront home or a boat to be apart of it and affordability because unfortunately, it is not a cheap industry to be part of.
Along with the costs to purchase a boat, PWC, jetty, pontoon, and the associated accessories are, of course, the cost to maintain them. Marine maintenance costs for such assets can be costly if you make no provisions to care and maintain them yourself. However, if you do take the time to care for and maintain your boat, PWC, jetty, pontoon, accessories, etc., not only will you enjoy reduced marine maintenance costs, but you'll also prolong their life expectancy.
At Micks Marine Maintenance, our name says it all. We specialise in marine maintenance; from repairing pontoons and gangways to recarpeting decks and re-welding damaged or broken aluminium components and accessories. Our industry experience means we know all the tips and tricks needed to maintain your assets which will, in turn, reduce your marine maintenance costs.
So, continue reading this article to discover expert tips which will save you a lot of money!
Be Responsible, Be Proactive
Whether you have a boat or PWC, pontoon or jetty, the number one way to reduce maintenance costs is to be responsible and proactive. Take responsibility for any damage and have it repaired before it develops into a more severe issue.
Perform DIY Maintenance
Performing regular maintenance yourself will reduce the frequency and need to bring in professionals. There are many components of a boat, PWC, jetty, pontoon that can be fixed the DIY way. If it's something small that can be fixed with a quick trip to Bunnings or BCF, then give it a go. Performing regular maintenance yourself will save you money, but only if you attend to it quickly. Remember, be responsible, be proactive!
Conduct Regular Inspections
In many cases, marine maintenance is necessary without you even being aware of a problem. It pays to create a maintenance checklist and schedule regular inspections. This may take a little time, but it will undoubtedly reduce marine maintenance costs.
With boats and PWCs±, it will be a case of checking the engine, testing the motors, checking for any saltwater buildup etc. For pontoons, it will be a matter of checking for barnacles and saltwater buildup, worn marine carpet, broken welds etc., and for jetties, looking for signs of rot and timber decay will be most vital.
Provide Protection for the Elements
The sun and saltwater can both be detrimental for marine assets. Therefore, providing protection from such elements will reduce damage and maintenance costs.
If you have a small boat or PWC, it will pay to invest in one of our boat or jetski roller systems. They enable the craft to be dry-docked on top of the pontoon and out of the water. Roller systems also make DIY maintenance much more accessible.
Conclusion
Being a part of the marine industry, and owning a boat, PWC, jetty, and pontoon is a privilege, but it can also be expensive. On top of the cost to purchase such assets, you need to ensure they are well maintained to provide optimal performance and offer longevity. If poorly maintained, marine maintenance costs can sky-rocket.
Reducing your maintenance costs is easy. Simply be responsive and proactive in fixing any damage as it occurs, perform DIY maintenance where possible, conduct regular inspections, and protect your assets from the elements as best you can.
If you need expert assistance with your marine maintenance needs, look no further than Micks Marine Maintenance. We specialise in the maintenance and repair of all things marine on the Gold Coast and Sunshine Coast and can provide you with affordable solutions to your maintenance requirements. Contact us today for a free quote.
±Micks Marine Maintenance does not specialise in boat or PWC repairs or maintenance. This information should only serve as a guideline. Professional advice should be sought for maintenance pertaining to your craft.