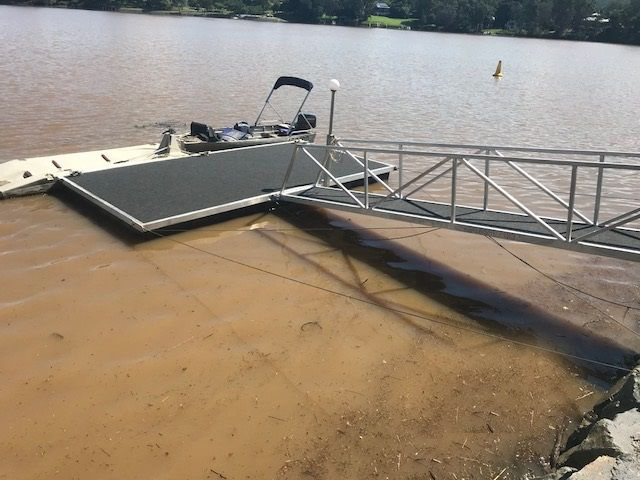 Living in a waterfront home, owning a pontoon and incite a great deal of pride, but only if they are well maintained. While we won't be much help in offering advice on keeping up your curbside appearance, we can provide a great deal of advice on keeping your aluminium gangway and pontoon looking in tip-top shape.
If you're one of the many waterfront homeowners that take pride in owning a pontoon and wish to take good care of it, then you need to know how to take care of it correctly.
Today, we will look at the best ways to clean aluminium
Aluminium Corrosion and Oxidation
In a maritime environment, corrosion is unavoidable, but that doesn't mean you should let nature have its course. Contact with dissimilar metals without sufficient insulation, or chemicals poured into the water to manage weeds or clear marine fouling from pontoons, can cause aluminium corrosion.
Because it is a kind of corrosion, oxidation can be perplexing. However, unlike oxidation that happens on other metals, oxidation on aluminium does not compromise the material's structural integrity; in fact, it actually enhances it. Although oxidation provides a protective layer against water and corrosion, it can make aluminium less appealing over time. Cleaning the ramp will reduce the likelihood of severe oxidation occurring.
To extend the life of aluminium structures, such as gangways and pontoons, you need to take preventative actions to decrease corrosion and increase longevity.
The first step is prevention. To keep your aluminium gangway and pontoon from corroding and oxidising, avoid using chemicals at all costs.
Continue reading to learn the best way to go about cleaning your gangway and pontoon.
How To Clean Aluminium Gangways & Pontoons
Cleaning an aluminium gangway and pontoon is simple and does not involve the use of any agents or chemicals. In fact, we strongly advise against using any chemicals like Chemtech, Septone Ali Brite or Meta-Brite.
The process is cheap and easy but will take some elbow grease.
You will need:
A bucket
Liquid Soap
A stiff-bristled brush or broom
Step One
Make sure all debris has been brushed away. This includes sand, mud, and leaves, among other things. Using a stiff-bristled brush or broom to clear out the grooves of the gangway is advised; just make sure you don't scrape the gangway with the brush or broom as this may harm the aluminium.
Step Two
After cleaning the gangway and pontoon down with a brush or broom, combine water and a liquid soap such as dishwashing detergent in a bucket till you have a nice frothy soap solution. I recommend you use filtered water whenever feasible since unfiltered water may include sulphur, chlorine, fluoride, and other minerals that might cause corrosion to the aluminium over time if not treated properly. Before using the gangway, be sure that all of the dish soap has washed away.
Liberally apply the soap solution over the gangway and pontoon surrounds, applying a concentrated amount to the problematic sections in particular. Allow it to settle for a couple of minutes before continuing.
Next, hose off or lightly pressure wash the gangway and pontoon to remove any remaining soap and debris from the surface.
Step 3
If there is still dirt on the gangway or pontoon, clean it with a cloth and the soap solution to remove it. Do not use steel wool or scouring pads on aluminium for stubborn marks. They can scratch the surface and make the aluminium seem dull. The use of aggressive cleaners, such as baking soda or alkali-based cleansers, can create discolouration, so I also advise against this.
If you wish to experiment with a new type of cleaner, test it on a small section of the underside of the gangway to see if it discolours the metal surface.
We recommend that you clean your pontoon and gangway at least once every two months. Using a pressure cleaner to do the task more quickly is a good idea. Regular cleaning to dislodge any buildup that can encourage decay will also help.
Conclusion
Cleaning an aluminium gangway and pontoon is cheap and easy to do. You simply need a decent brush or broom, a bucket, water and dishwashing detergent. Chemicals and aggressive cleaners should be avoided at all costs.
If you're gangway and pontoon needs more attention than a simple clean, give Micks Marine Maintenance a call. As pontoon maintenance and repair experts, we can have your pontoon and gangway looking as good as new again in no time at all.