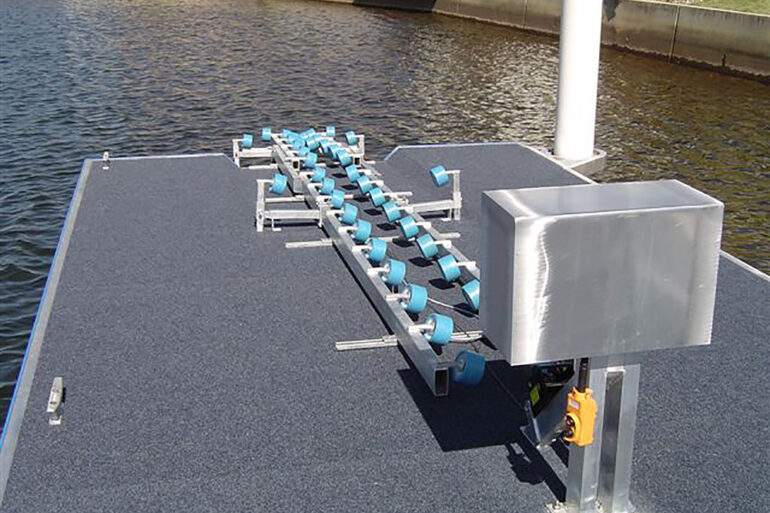 If you love spending time on the water, then you know that a boat or jet ski is a great way to enjoy it. But if you're like most people, you probably find that docking and launching your boat or jet ski from a pontoon can be a real hassle.
That's where boat roller systems come in. Boat roller systems make docking and launching much easier and faster, and they can also help protect your boat from damage.
In this article, we will explain what roller systems are, how they work and the different types available. We will also discuss the benefits of using roller systems and answer some common questions. Finally, we explain why Micks Marine Maintenence is the best company to call to install a roller system on your pontoon.
What are roller systems and how do they work
A roller system is a mechanism that helps to keep a boat or jet ski dry berthed. This protects your vessel from the effects of the marine environment, and it also allows easy access for maintenance.
A roller system comprises several roller assemblies. Each roller assembly includes wobble rollers, roller bearings and a tension device, which prevents the roller from loosening over time.
The rollers act as a point of contact between the boat or jet ski and the roller system. They move in motion to raise the boat or jet ski out of the water. The hull of your vessel then rests on top of the roller assembly, preventing it from touching the main cradle.
The roller bearings reduce friction while keeping the roller in place with an exact fit, even in rotating roller assemblies. They have a low dusting effect, so any dirt or debris will not stick to them, making roller bearing assemblies easy to clean at regular intervals. Plus, the roller bearings will maintain your boat or jet ski at a safe height above the roller system.
The tension devices hold your roller system together by keeping all components tightened enough to avoid any movement while in use.
How to choose the right roller system for your boat or jet ski
When it comes to choosing the right roller system for your boat or jet ski, there are a few factors you need to consider. The most important factor is the weight of your boat or jet ski.
You also need to consider the size of your boat or jet ski and the type of roller system you need. You may need to include an electric winch for ease of operation or if the vessel is smaller and more lightweight a manual winch may suffice.
Installing a roller system on a pontoon
Installing a roller system on a pontoon is a fairly easy process that anyone with basic DIY skills can do.
The first step is to identify where you want to install the roller system. It is important to choose a location that is easily accessible.
Once you have chosen the installation location, it is time to gather the necessary materials and tools. With a quick phone call to Micks Marine Maintenance, we can step you through the process of installing the roller system.
If, however, you would like a professional to install a roller system on your pontoon, please get in touch with us at Micks Marine Maintenance. Along with maintaining and repairing pontoons, we also specialise in an array of pontoon accessories, including roller systems. We can advise on all aspects of getting a roller system installed, including which type is best for you and where to position the system on your pontoon.
FAQs about roller systems
What are the benefits of having a roller system?
There are many benefits of roller systems that may be the solution you need for your boat storage needs. Here are just a few to consider:
Convenience: Roller systems make it easy to launch and remove the boat from the water.
Safety: Roller systems offer a safe and more convenient dry docking option for boats and jet skis.
Value for money: Roller systems provide a cheap dry-berth option, which is much cheaper than paying for dry-berthing at a marina.
Accessibility: Roller systems allow you to easily inspect and make any necessary repairs to your boat or jet ski.
Longevity: Roller systems also protect boats and jet skis from the marine environment, increasing their longevity.
How much time will I save using a boat roller system?
A roller system can reduce the time required to get your boat on and off the water by 60%. This means that with a roller system you will save yourself up to four hours of labour each weekend.
How much does it cost to install a roller system?
The cost of a roller system will vary depending on size, but they are generally around half the price of an equivalent boat lift.
How long do roller systems last?
With proper installation and maintenance, roller systems can last for many years to come.
How to maintain a boat roller system
Proper installation and maintenance involves regularly greasing roller bearings and replacing worn wobble rollers when showing signs of wear or have become misaligned (see below).
Maintaining a roller system is important for ensuring that it functions properly and lasts for as long as possible. Here are the steps to follow for maintaining a roller system:
Check the roller system for any signs of wear and tear. If you see any damage, act to rectify it swiftly.
Make sure that the roller bearings are well lubricated. You can do this by using a light oil or spray lubricant.
Keep an eye on the roller assemblies and make sure that they are properly tensioned. If they are not, re-adjust them as necessary
Inspect the roller system regularly and fix any problems you find as soon as possible.
How do I replace wobble rollers?
When it comes time to replace roller system components, you will need to call the roller system manufacturer for any replacement parts that may be required.
If you need to replace worn wobble rollers on your boat roller system, the best way to do so is by following these simple steps:
Ensure the centre hole of the wobble roller you have on hand matches the existing pin diameter
Remove boat or jetski
Remove the split pin and washer the wobble roller will free
Reinstall the new wobble rollers Test the roller system for proper function
Alternatively, give Micks Marine Maintenance a call. We can supply and fit parts for you.
Can I do the installation myself or do I need to hire a professional?
Yes. Most roller systems are easy to install, but the experts at Micks Marine Maintenance can give you a hand if you would like. We are the leading roller system installer on the Gold Coast and surrounding regions.
We can provide you with roller systems that suit your needs and budget and install them on your pontoon for you. Call us today on 0431 776 468 to see how we can help you get your boat or jet ski in and out of the water quicker.
Conclusion
A roller system is a convenient and affordable dry-berth boat storage solution that can save you time and money. They comprise roller assemblies with wobble rollers, roller bearings and a tension device that work together to move boats and jet skis in and out of the water with ease. Roller systems can be operated with electric or manual winches, and can easily be installed onto most pontoons. They offer many benefits, including convenience, safety, value for money, accessibility and longevity.
We hope this article has given you a good understanding of the roller systems and how they work. You may have also learned about some benefits that come with using one. If not, then feel free to contact us for more information on boat rollers or any other marine product Micks Marine Maintenance can help provide. Our team is always happy to answer your questions!