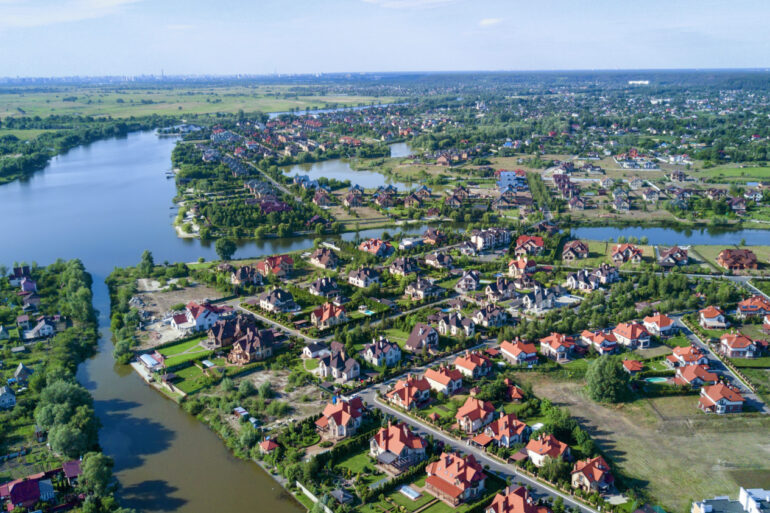 Why you're even thinking of selling your waterfront home is beyond me, but if you must, then you'll want to make sure you're getting the best value you can for it, and selling it "as is" generally isn't the best way to go about it.
The Gold Coast housing market is at an all-time high. Homes are selling quicker than ever and at record prices. So, it only makes sense to leverage the opportunity to ensure you get maximum sale value when your home hits the market.
So, how do you ensure that? Well, it takes a little work. I won't lie. But that "little work" could add tens of thousands of dollars to your home! Have I got your attention now?
While we at Micks Marine Maintenance aren't real estate agents or interior designers, we are pontoon experts, which makes us very familiar with waterfront homes and, indeed, their shorefronts. Thus, we have met hundreds of waterfront property owners and know what they want from a waterfront home.
Today, we share four easy ways to increase the value (and salability) of your waterfront home.
Install a pontoon
Would you like to add $60,000 value to your home from just a $30,000 investment? There's no better way to add value to a waterfront home than by installing a pontoon.
Without a pontoon, a waterfront home only offers a great view. With a pontoon, a waterfront home becomes a gateway to a world of experiences; fishing, boating, jet skiing, kayaking, you name it; if it's water-related, you can do it from the safety and convenience of a pontoon dock.
Having or not having a pontoon can significantly affect not only your sale price but salability. Nine times out of ten, potential buyers will buy the home with the pontoon over the one that doesn't because pontoons offer the waterfront living experience many people are after.
Having a pontoon installed in your home is made easy with Micks Marine Maintenance. We do everything for you, from design to council approval and installation; all you have to do is make the investment and watch the value of your home soar!
Contact us today for a free pontoon quote.
Attend to your maintenance duties
Let's start with the worst of all – chores. No one likes doing chores, but these chores can be worth thousands to you, so taking care of your duties is well worth the effort, and it's a small price to pay for maximum return.
The chores I am referring to are all the maintenance jobs you know need doing but you've been putting off because you'd rather spend your weekends with family or relaxing. And, granted, I would too. But if you want to add value to your home, and you do, then it's time to get busy.
Remove rust from metal fixtures
Living by the sea can cause outdoor fixtures to rust, really aging the home and making it look like a lot more work than some potential buyers may want to take on. With a cheap wire brush attachment on the end of a drill, rust removal is quick and easy. When you're done, give everything a coat of anti-rust paint, and you'll have your fixtures looking as good as new.
Remove mould from around your home
Another drawback of waterfront living is mould, which often forms from the extreme humidity of waterfront areas. If your home has signs of mould, either on the exterior walls of your home, the eves, or even soft furnishings, you'll want to remove it before your first open home. You can get rid of it quickly by pouring bleach on it and scrubbing it away; just don't use bleach on your soft furnishings; try bicarb soda instead.
Sell the views
Just like staging the interior of a home, you can also stage the exterior, and in your case, it's the view that you want to sell. One of the main reasons people buy waterfront homes is the view. And, it's not only the view of the water that impresses. It's how they will see themselves in that space.
Build a pergola
A view is great, but having a shaded area to view it from is even better. Building a pergola may seem like an extreme way to add value to a home, but it's no more extreme than installing a pontoon or jetty. Like a pontoon or jetty, a pergola will allow potential buyers to enjoy their waterfront property all the more, which, if nothing else, will considerably add to your home's value and salability.
Create an outdoor living space
Finish selling the view by creating an outdoor living space for it to be enjoyed from. An Australian home just isn't complete without an outdoor living space, and with a new pergola, you're halfway there. All you need now an outdoor seating to set the scene, and you've instant;y creating a space that potential buys can picture themselves enjoying for years to come.
Improve the shoreline
While you may not see value in making your shoreline more attractive, in terms of adding value to your home, there is plenty of value. Your shoreline is probably the most neglected area of land on your property, but you can turn this around to make it as attractive as the views it presents.
Create a Soft Armour
Evident shoreline erosion problems will undoubtedly affect the value of your home. Not only can it present structural challenges for moored pontoons, jetties, and in extreme cases, homes, but it means you're literally washing your land away, reducing its square meterage.
Building a soft rip rap armour from rocks helps prevent erosion and makes your shoreline look much more attractive. A rip rap armour is simply a rock retaining wall built on the land's natural slope to allow wave energy absorption. It acts as protective armour, ensuring your valuable waterfront land is protected from erosion.
Plant Vegetation
Another way to improve the shoreline is to plant vegetation, and if you read my previous article, 'Simple Guide to Protect Your Waterfront Property From Erosion', you'll know it also helps with erosion control.
Grasses, flowers, hedges, shrubs, and trees are all great examples of woody and aquatic shoreline vegetation to consider.
Suitable coastal grasses and ground covers include pigface or angular pigface (carpobrotus glaucescens), beach spinifex (spinifex sericeus), coast rosemary (westringia fruticosa), and guinea flower (hibbertia scandens). All are widely available and will transform your shoreline into a natural thing of beauty.
While trees are great for erosion, they can block the view once they mature, so be wary of this.
Repair your Pontoon or Jetty
If you already have a pontoon or jetty, and chances are you do, then you will want to make sure it's in tip-top shape for potential buyers to inspect. Remember, this is one of the main selling points of your property, and an old, unmaintained, even dangerous pontoon isn't exactly putting your best foot forward.
Damaged gangways due to aluminium corrosion or rot to the deck, worn pile rollers or pile brackets due to wear and tear and worn, faded marine carpet from the elements can be very off-putting to potential owners and significantly affect the value of your home. While such problems are not major problems to repair, they can seem that way to buyers and be a problem they just don't want to deal with.
Thankfully, there is a simple solution to your common pontoon and jetty repair needs, and that's us; Micks Marine Maintenance. We specialise in the repair and maintenance of pontoons and jetties and can repair damage from aluminium corrosion, worn pile rollers or pile brackets, and worn marine carpet efficiently and affordably, just in time for an open home.
Contact us today for a quote on your pontoon or jetty repairs. We service the areas of Northern NSW; from Yamba to the Gold Coast and north as far as the Sunshine Coast.
Conclusion
If you're looking to sell your home and you want to get maximum value for it, there are many things you can do to ensure this. First, install a pontoon if your property doesn't already have one; it can increase the value of your home by as much as $60,000! Secondly, take care of any pesky maintenance issues that may deter buyers. Thirdly, sell your exclusive waterfront views by building a pergola or shade structure and staging it with an outdoor setting. Finally, improve your shoreline by creating a soft rip rap armour, planting vegetation, and making any needed repairs to an existing pontoon or jetty.
Whether you're looking to install a new pontoon or repair your existing pontoon or jetty, Micks Marine Maintenance can help. We service Australia's East Coast from Yamba to the Sunshine Coast and can help you increase the value of your waterfront property with our affordable services.