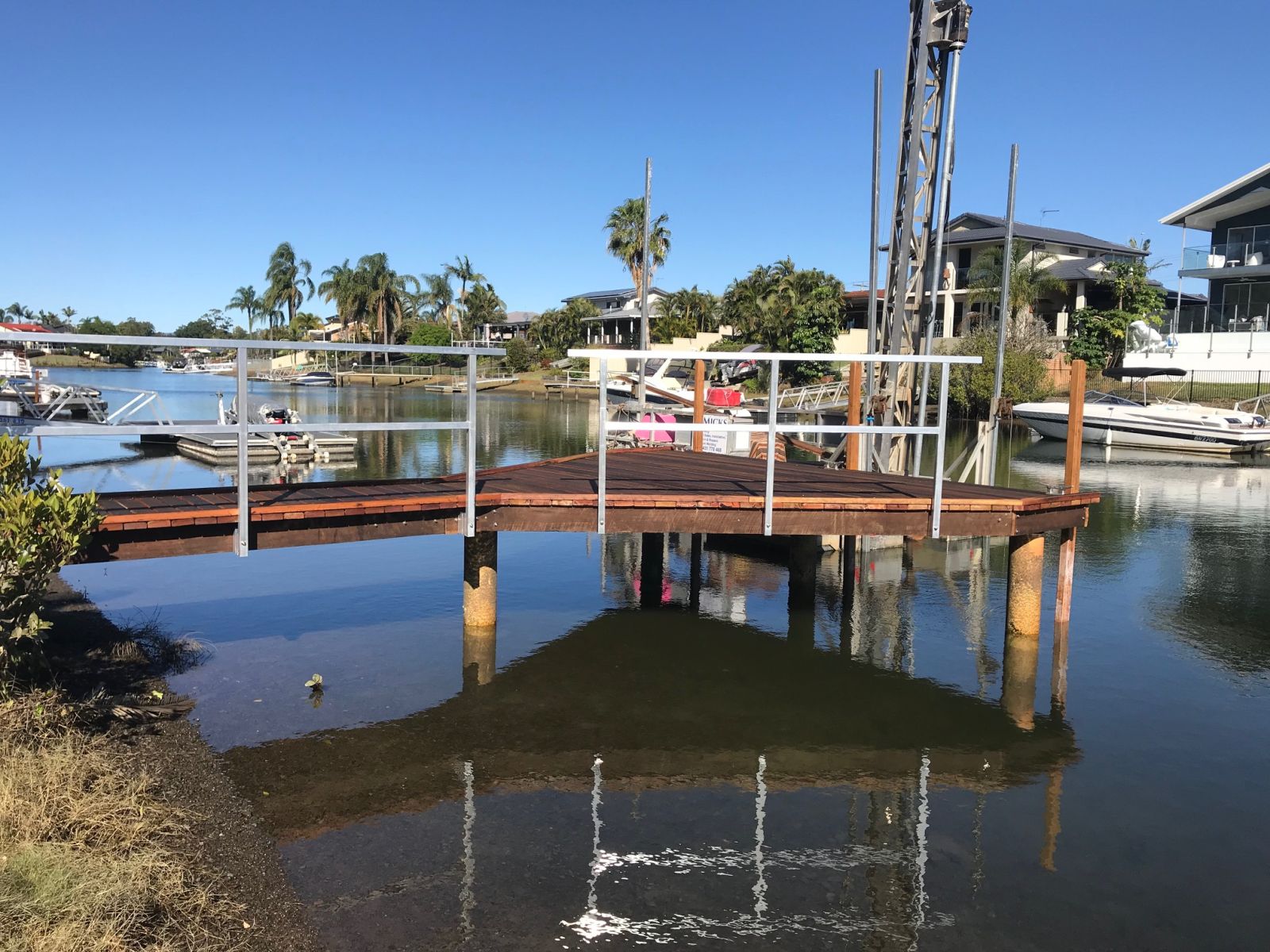 Do Away with Jetty Repairs Today!
Are you sick of sinking dollar after dollar into jetty repairs? I'm sure you are. Jetties, while highly functional, are, unfortunately not very practical. Timber jetties may be traditional, but after 10 year's they start showing signs of wear, and after 15 year's, you're searching the internet looking for someone who specialises in jetty repairs on the Gold Coast or Sunshine Coast. This needn't be the case.
If you're sick and tired of having people out to repair your jetty only to have more planks and piles rot year after year, then its time to give serious consideration to an alternative solution: pontoons.
Micks Marine Maintenance specialises in pontoon repairs and well as jetty repairs, so I am not biased when I say that pontoons are by far the better option of the two. In fact, we only just re-built this timber jetty below last month.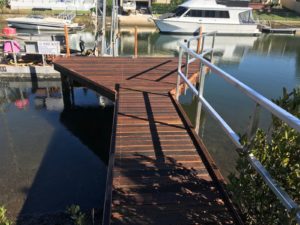 This jetty was so rotted that it was a safety hazard. It needed the entire deck re-built to get this depleted jetty back to a safe, usable condition. The piles were structurally sound, which saved the owner some money, but new hardwood bearers and decking were needed to make this jetty usable and safe again.
Continue reading to find out how you can do away with constant jetty repairs today, and save considerable money in the long run by making the switch to a pontoon!
Longer Lifespan
Jetties are made from timber, which is not as ideal for marine environments. Timber is susceptible to biological deterioration, such as fungal decay and marine borer attack of timber, and it is also vulnerable to mechanical damage, including fender wear and tear and abrasions.
Pontoons, on the other hand, are mainly made from aluminium and are designed to weather marine conditions. The decking is usually concrete and the gangway, mesh or solid aluminium sheeting. Both materials offer longevity, which in turn, enable pontoons to have a longer lifespan than timber jetties.
Less Maintenance
Over time, timber planks and beams rot and can become very hazardous. Even I have fallen through a few in my days, and it's not fun at all!!
Frequent jetty repairs are required to maintain safety, and its highly likely that the entire deck will need replacing at some point in time, as in the case of our customer above.
There is a way to avoid constant jetty repairs, and that's to replace your jetty with an aluminium pontoon. Compared to jetties, aluminium pontoons are not susceptible to biological deterioration and are not as vulnerable to mechanical damage. Thus, maintenance is less, as too are maintenance costs.
Conclusion
If you're sick of forking out dollar after dollar, year after year in jetty repairs, then it may be time to look at alternative solutions. Pontoons are specifically designed to withstand marine environments better than timber, which means less maintenance and bigger savings!
Because pontoons are made mainly from aluminium, they won't rot or need to have planks replaced frequently. They are less prone to biological deterioration and mechanical damage, which means they have a longer lifespan and are cheaper to maintain in the long run.
If you'd like to do away with jetty repairs today, give Micks Marine Maintenance a call. We can review your current situation and provide you with a quote and advise on the best way to move forward.
Call our office today on 0431 778 468