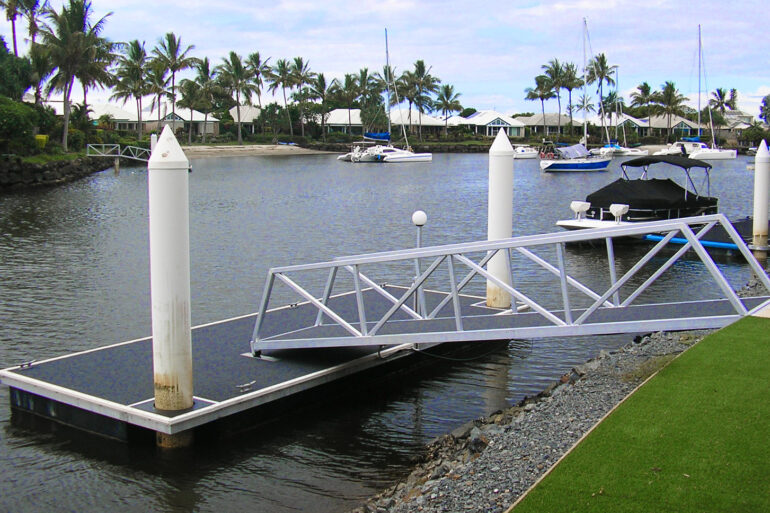 For those lucky enough to live on the Gold Coast, most would say, 'you're living the dream'. However, it's those that live in the waterfront suburbs of Runaway Bay, Hollywell, Paradise Point, Sovereign Islands, Hope Island, Sanctuary Cove, Helensvale, Coomera Waters, Paradise Waters, Surfers Paradise, Bundall, Benowa, Mermaid Waters, Broadbeach Waters, Palm Beach and Carrara, that are really living the dream!
Waterfront living is the epitome of living on the Gold Coast. It really doesn't get much better – unless perhaps you add a jetty, of course!
If you're looking for jetties on the God Coast, then you've landed on the right site because, at Micks Marine Maintenance, jetties are our bread and butter! Not only do we sell jetties on the Gold Coast, but we maintain and repair them also.
Although I'd love nothing more than for you to buy your jetty from us, first I'd like to equip you with all the information you need in order to choose the best jetty for your home and your needs.
Traditional Jetty or Floating Pontoon?
The first step in buying jetties on the Gold Coast is to determine whether you want a traditional jetty or a floating pontoon. The difference between the two is vast. Traditional jetties are fixed structures which are typically made from timber while floating pontoons float on the water with the tide and are most commonly made from aluminium.
Jetty piles are made from timber which is prone to rot and require a high level of maintenance and even repairs. And because they are fixed in position, a boat moored at high-tide may not be the same as you left it by low-tide; you may find your boat to be damaged and even your jetty.
Pontoons, on the other hand, don't necessarily need piles at all.  There are three main types of floating pontoons; strut pontoons and cable pontoons (which use struts and cables respectively to hold them in place), and there are piled pontoons, which are those that require piles.
Pontoon piles are made typically from a PVC pipe which is filled with steel reinforcing and filled with concrete. Unlike jetty piles, they are robust, hardwearing and require little maintenance. Furthermore, the pile brackets allow the pontoon to move freely up and down with the tide, so no damage to your boat or pontoon.
What will it be used for?
Now that you know the difference between jetties and pontoons, the next consideration to make when buying jetties on the Gold Coast is its intended use.
Jetties are made for different purposes; some are made to be able to support large boats and rough waterways while others are designed for small PWC's and calm waters.
If you have a smaller boat, jetski or PWC and live on calmer Gold Coast waterways, then look for strut pontoons and cable pontoons when looking at jetty options. For rougher waterways and larger boats, consider either piled pontoons or traditional jetties.
Also take into consideration whether you need a dry berth option for your boat, jet ski or PWC. You will find that floating pontoons better accommodate such needs.
What size Jetty do you need?
Next, think about what size jetty you need. To determine the right size, consider the size of your boat and how many people you want the jetty to accommodate. If you plan on fishing off your jetty, ensure you have space to do so. Also allow space for any marine accessories you may want to add such as a roller system, hose reel stand, fish cleaning station etc.
Conclusion
If you're shopping for jetties on the God Coast, then it pays to do a little research before you come to a decision to ensure you have chosen the right jetty for your needs and requirements.
To do so decide whether you want a traditional jetty or a floating pontoon, think about what you will use the jetty for, and consider the size of the jetty allowing room for any accessories you may want to add down the track.
When you're ready to purchase a jetty on the Gold Coast, contact Micks Marine Maintenance. We specialise in pontoon sales and can provide you with the perfect solution for your needs and budget.