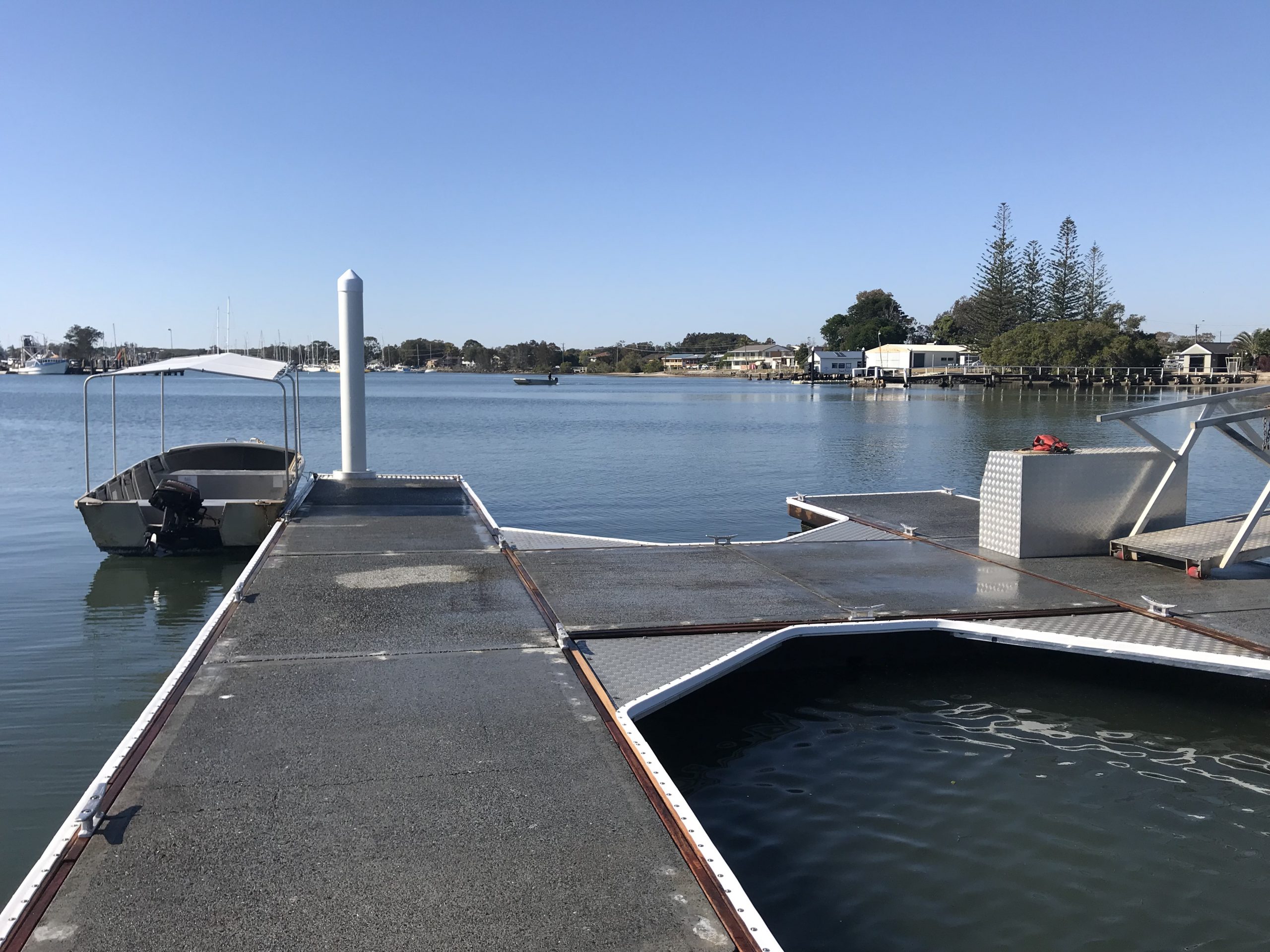 Undoubtedly, pontoons are one of the best boat docking solutions. They are robust, affordable and require far less maintenance than timber jetties. However, like everything, their longevity is impacted by their servicing and maintenance. Look after your pontoon, and it will last you well. Fail to do so, and you may face much larger and more expensive problems than a regular service or small repair.
Micks Marine Maintenance's pontoon maintenance service helps owners, such as yourself, avoid costly repairs so you can enjoy the longevity and value for money expected from your pontoon. However, if you've neglected or inherited a poorly maintained pontoon, then we can also help. We know the ins and outs of pontoons and can fix any issue to bring you pontoon back to its former glory.
Even well-maintained pontoons can experience problems that require maintenance. Regardless of the issue, we have you covered. Some of the most common pontoon problems that we repair include damaged gangways, broken pile brackets, pile roller replacements, and worn marine carpet. If your pontoon has any of these issues, give us a call!
Damaged gangways
A gangway is a ramp or walkway that connects a pontoon's floating dock to the shore for access. Thus, any damage to a gangway can have disastrous results. Damaged gangway flooring can lead to an unwanted dip in the ocean and cause serious injury.
We are highly experienced in gangway repairs and refurbishments; just take a look at this recent job we completed at Hope Island Marina below. It had rotted plywood and worn marine carpet that was in dire need of repairs. We removed the plywood and carpet and replaced them with 22m micromesh, which is a fibreglass grating. Using this product in the marina environment will ensure low maintenance and longevity – a win-win for all.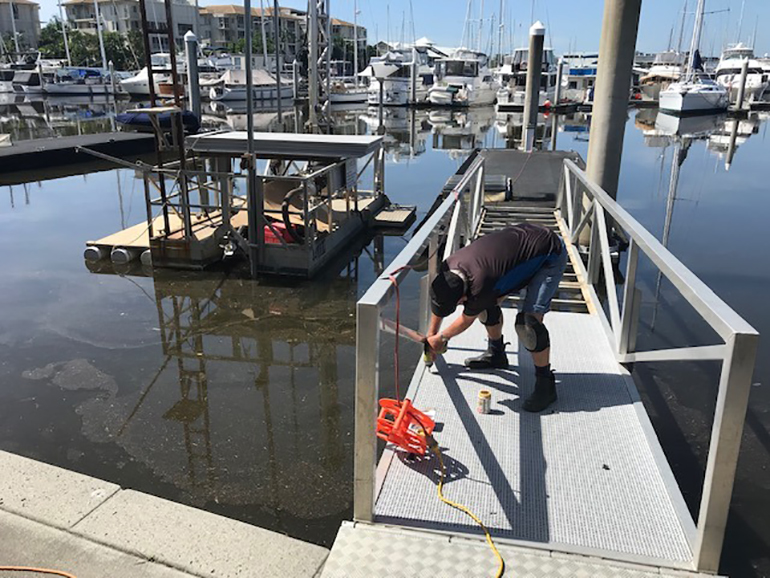 Broken pile brackets
Although piled pontoons are the most robust and durable type of pontoon, they are prone to issues – broken pile brackets being one of the most common. A pile bracket surrounds a pile and enables a pontoon to move up and down with the tide. If a bracket is broken, it can cause instability issues which will affect the other piles.
Fixing broken pile brackets can be straightforward repair if the damage is caught early. As soon as you notice a problem, its best to give us a call.
Pile roller replacements
Along with pile brackets, pile rollers can also be easily damaged, usually as a result of wear. Pile rollers are a component of a bracket (usually anywhere from four to eight rollers per bracket) that provide the functionality to move the dock up and down the pile along with the tide. Overtime, pile rollers wear until the point where they need to be replaced. If not replaced, they can cause damage to the pile bracket structure.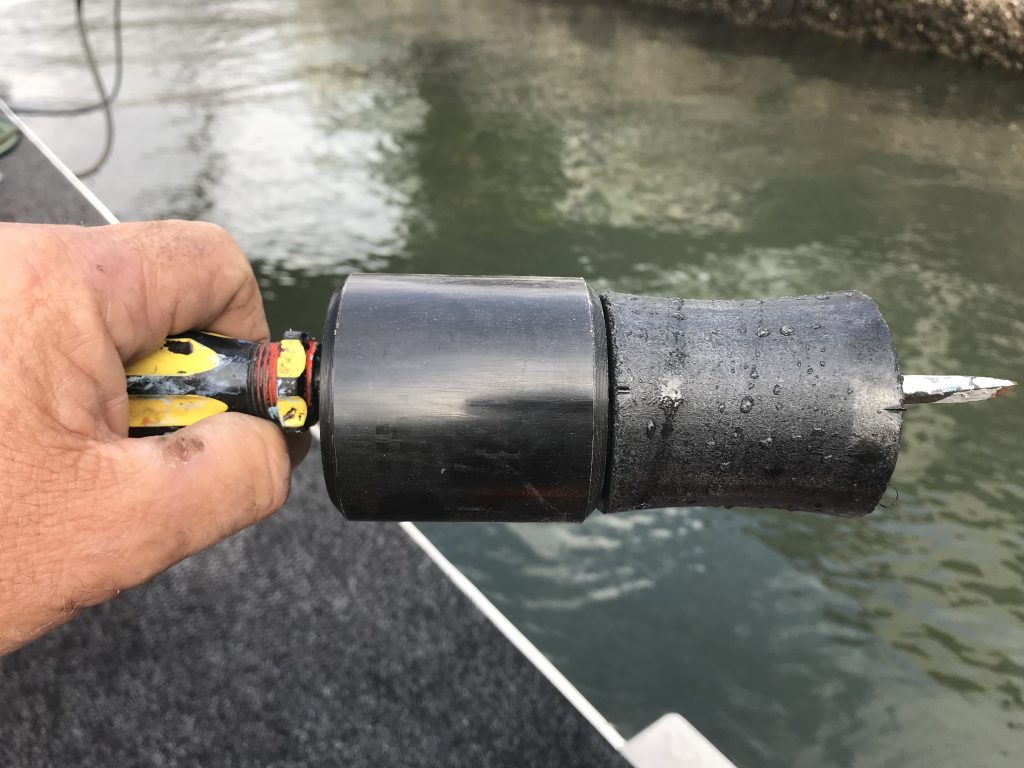 Worn marine carpet
Like any type for flooring, over time, the marine carpet will wear. It can lift and become a tripping hazard and should be repaired or replaced before an injury occurs. Marine carpet is commonly used on pontoons – on gangways or on the floating dock. Thankfully, marine carpet replacements are very easy for Mick's Marine Maintenance and don't take long or cost a lot.
Conclusion
Pontoons are a fantastic boat docking option, but as with all things, they do require maintenance and often repairs. A pontoon has many components, and therefore, many parts that need to be maintained to ensure the intended longevity is upheld.
Some of the most common pontoon problems that we maintain and repair here at Micks Marine Maintenance include damaged gangways, broken pile brackets, pile roller replacements, and worn marine carpet.
If you have a problem with any of these pontoon components, then give Micks Marine Maintenance a call on 0431 778 468.