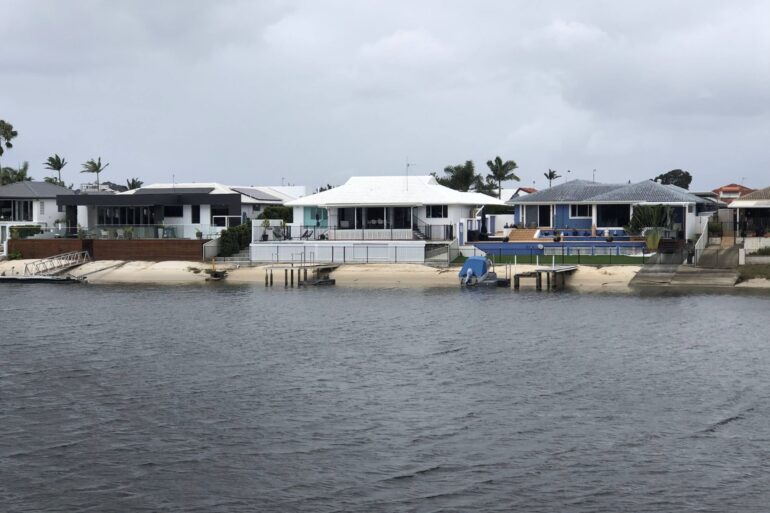 There's no doubt, living in a waterfront home is something many Australian's aspire to. Waterfront homes have a level of prestige that dry block homes simply can't offer. Such prestige brings greater returns and, of course, bragging rights.
With Australian waterways, and particularly the canals and lakes around South East Queensland and Northern New South Wales, being so picturesque, you really can't find a bad position. Even if you can only afford to purchase the most derelict waterfront home, you can transform it to be as spectacular as the views provided by its waterfront position.
While waterfront living may be a dream for many Australians, it does come at a price. As mentioned above, waterfront homes are more prestigious, regardless of the condition of the home. It's the waterfront location that you're paying for, not so much the house.
A recent article on Domain.com stated that you could be paying as much as double the price for the prestige. A 2019 article from Domain said water access adds 66.5% value to Gold Coast homes and 45.1% to Brisbane homes.
So, the question is, is waterfront living worth the cost? It really comes down to your personal goals and objectives. But, given the real estate market's current state, you certainly won't be losing money by investing in a waterfront property.
To help you decide if waterfront living is worth the cost, I thought I would outline the many benefits of living in a waterfront home.
It's a Great Investment
Investing in a waterfront home is simply a great investment. It's like investing in Gold. You simply cannot go wrong. Prices will always rise, and you'll always gain equity and make a healthy profit come sale time.
The return on investment is one of the main things to keep in mind if you're worried about the purchase price. It may be steep, but the sooner you get into the market, the cheaper it will be and the bigger the returns when you decide to sell. The resale value of waterfront homes is much higher than those on a dry block because waterfront homes are limited.
Even if you move and want to keep your waterfront home as an investment property, you're going to get a high rent price purely because of the waterfront location. The rental market is at an all-time high, which will undoubtedly work in your favour should you choose to lease your waterfront home.
You Can Enjoy Amazing Views
When most people think about living in a waterfront home, the first thing that comes to mind is the amazing waterfront views they can enjoy. Who needs to spend thousands on landscaping when they have a canal or lake as their backyard backdrop.
Imagine how nice it would be to invite friends and family over for an afternoon BBQ and to have the sun setting as the backdrop? Or to arrange a private romantic dinner for your better half on a pontoon dock literally over the water. The best restaurant in town couldn't offer better views.
The mere sight of water creates a calming effect that will keep you more zen and stress-free than you would otherwise be on a dry block. Moreover, even if the property is on a small block, you won't feel like a sardine in a tin, boxed into a suburban neighbourhood. The openness of the waterfront view will always provide space to breathe and take in the fresh air.
It Offers Easy Water Access
Yes, waterfront living offers amazing views, but you'll want to do more than just enjoy the views! With the help of a pontoon dock, you can get in there and enjoy the many water activities waterfront living offers.
A pontoon dock provides direct water access for jet skis, tinnies, boats, and other watercrafts, which can be of significant benefit. There is no need to purchase a boat or jet ski trailer for transportation. And you don't have to get up at crazy early hours to miss the peak hour rush at a local boat ramp. You can relax, enjoy your morning and get on the water at your own pace, with no stress or rush.
There's simply no better way to get out on the water than by the convenience of your own waterfront access and pontoon dock.
It's a Lifestyle
Living in a waterfront home is about so much more than living in a house with great views. It's a lifestyle. A lifestyle that only those living on the waterfront can enjoy. Your waterfront home inducts you into a prestigious club of like-minded people who love everything about waterfront living; the easy access to water activities, having friends over for BBQs with a view, having relaxing boating days on the water, and boat-hopping from house to house.
The best way to maximise your waterfront lifestyle is by installing a pontoon dock. Whether you own a jet ski, tinny, boat, or have no watercraft, a pontoon opens a myriad of opportunities and truly is a gateway to a better waterfront lifestyle.
Fishing enthusiasts will love living in a waterfront home because they are connected to the water and can drop a line from your backyard any time of day without even leaving home. If there's a pontoon dock installed, then that's even better.
As one of the leading pontoon builders in South East Queensland and Northern New South Wales, we will be more than happy to provide a cost estimate to factor into your waterfront home budget.
It's Good For Your Health & Wellbeing
Perhaps nothing is as calming and tranquil as the sight of water. As mentioned, living in a waterfront home can reduce stress. But it is also great for promoting outdoor activities that boost physical health and positively affect mental health. In turn, outdoor activities increase the body's production of vitamin D. Vitamin D helps reduce inflammation, control blood pressure, strengthen muscles, boost cognitive function, and may even protect against cancer.
Spending time near water causes us to experience a blue mind state. This state makes one feel at peace and ease and a sense of awe, which can motivate new experiences like fishing, boating, and kayaking. Studies also show that those who live near the ocean, lakes, or rivers tend to sleep better than those who don't.
Conclusion
If you've always wanted to live in a waterfront home but are wondering if the cost of purchasing a waterfront property is worth it, consider the benefits. The top benefits offered include the fact that it's a great investment that will yield a high ROI. You get to enjoy amazing unobstructed waterfront views every single day. You have direct access to the water to enjoy whenever you like, without having to drive anywhere or wait for a boat ramp to be free.
Living in a waterfront home offers a prestigious lifestyle that those living on a dry block cannot experience. Lastly, there are many health benefits, including reduced stress, increased outdoor activities, increased Vitamin D, and better sleep, to name a few.
A waterfront home offers many benefits, but a waterfront home with a pontoon opens the door to many more opportunities and benefits.
If you're considering buying a waterfront home, I urge you to consider installing a pontoon dock or maintaining the existing pontoon. Doing so will ensure you get to enjoy your new waterfront lifestyle to the fullest.
Contact Micks Marine Maintenance today for information on pontoon dock installations and maintenance. We specialise in new pontoon dock installation and repairing and maintaining existing pontoons along Australia's East Coast between Yamba and the Sunshine Coast.
Phone 0431 778 468 or click here to learn more.