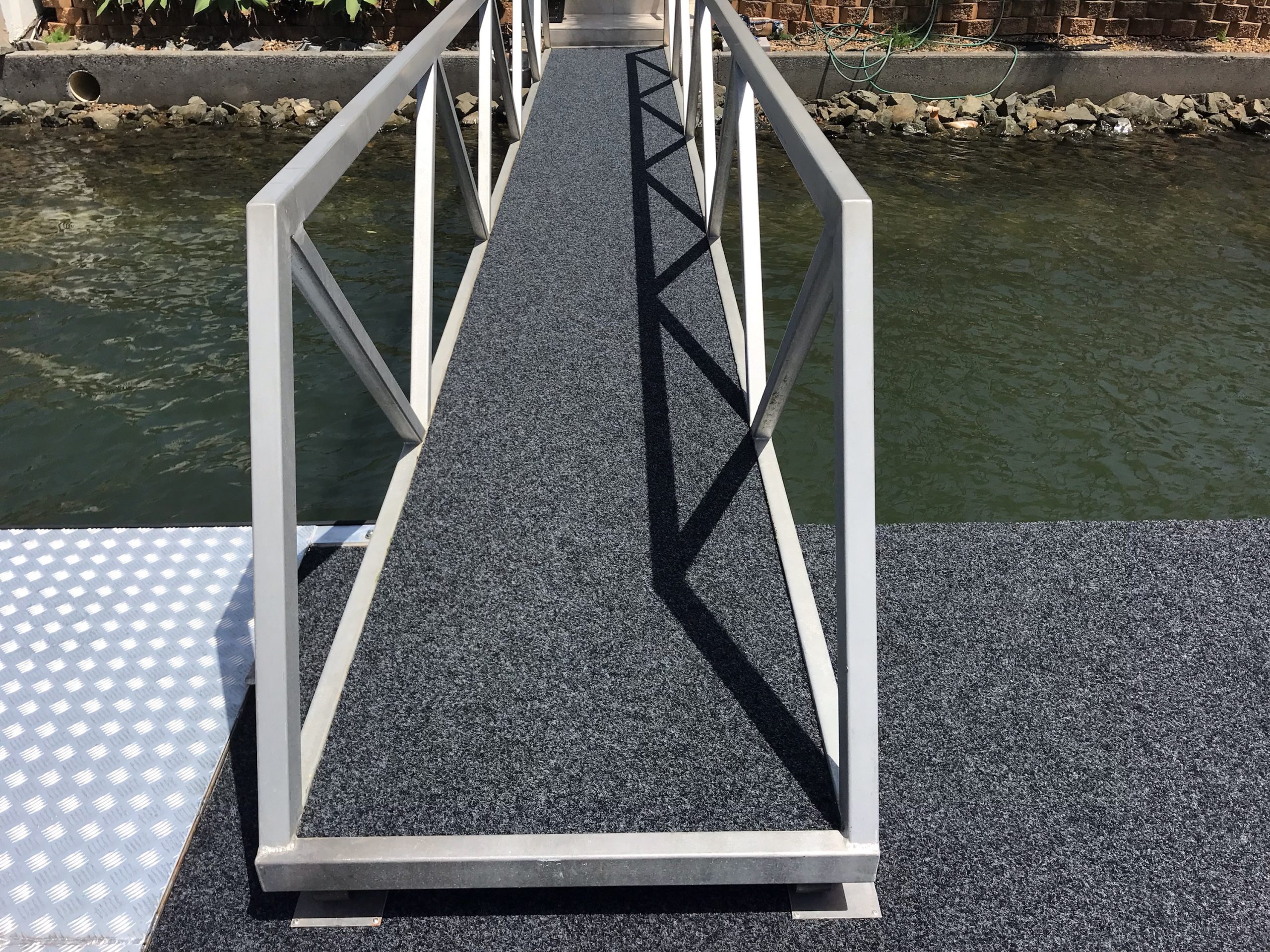 Is your jetty looking a little worse for wear? If it is, then perhaps it's time you considered investing in a new one. Better yet, why not consider investing in an aluminium gangway and floating dock, better known as a pontoon.
If you're considering having a pontoon installed, then the aluminium gangway is one of the major components. It is the bridge that takes you from the shoreline to the floating dock to facilitate access to a vessel. Thus, it plays a vital role in the functionality of a pontoon.
Unlike jetties, which I'm sure you are well aware, are not overly suitable to saltwater environments, aluminium gangways are ideal. They are corrosion and saltwater resistant and will provide far, far greater longevity than your sorry-looking jetty.
Today, we take a look at aluminium gangways under a microscope. I will explain precisely what a gangway is and how it originated, the types of gangways available, along with the available options and accessories for dock gangways, and of course, the benefits.
History of a Gangway
A gangway is a bridge or platform that allows you to move from one point to another, or in our world, from the shoreline to the floating dock. They were primarily used as a form of ramp, to allow people to board and exit ships, but have since extended to various context and environments outside marine environments.
The term 'gangway' stems from the Ango-Saxton words' gang' (path) and "wey" (way). Gangways are used to connect any two locations together, but that isn't always the case. In pirate files, the gangway is used to send a sailor overboard.
Types of Aluminium Gangways
As mentioned above, gangways can be used for a magnitude of situations and in various environments. Thus, it's only fitting that there are many types of aluminium gangways, not just those we are accustom to.
We utilise traditional aluminium gangways in our pontoon construction. Others, however, include the likes of  Beam Brow Aluminium Gangways and Truss Brow Aluminium Gangways. There are then Light-Duty Gangways, Medium-Duty Gangways, and Heavy-Duty Gangways, which are used in marine environments for residential ports, pontoons, private harbours, and cruise ferries.
Aluminium Gangways Options and Accessories
Not that you understand what an aluminium gangway is and the various types available, let's turn our attention back to the standard gangways we use for pontoons to discover the options and accessories available.
In terms of options, there are a few. You have flooring options, which includes aluminium sheeting, aluminium mesh, and timber decking. You also have handrail options, which include fixed and collapsible. We can customise a gangway to your requirements.
In addition to the options, there are plenty of accessories. Such accessories include the likes of hinge and roller systems, lighting, cages or shelters, security gates, cable trays, pipe supports, kick or transition plates, stair treads and sub-floor conduits.
Benefits of Aluminium Gangways
An Aluminium gangway paired with a floating dock is now the preferred 'jetty' option because of the magnitude of benefits on offer. The biggest being they're practically maintenance-free. They are also durable, lightweight and very safe.
Conclusion
If it's time you upgraded your dilapidated jetty, then consider investing in an aluminium gangway and floating dock. Aluminium gangways play an important role in the marine industry and are essential for a pontoon. They come in a variety of types with varying options and accessories to be tailored to an individual's needs and requirements.
Why aluminium gangways are today the preferred 'jetty' option is due to their resistance to corrosion and saltwater. Unlike jetties, they are virtually maintenance-free. They are also durable, lightweight and safe.
To find out more about aluminium gangways and alternative jetty solutions give Mick a call! At Micks Marine Maintenance, we can either repair your existing jetty or install a brand new pontoon, equipped with an aluminium gangway.