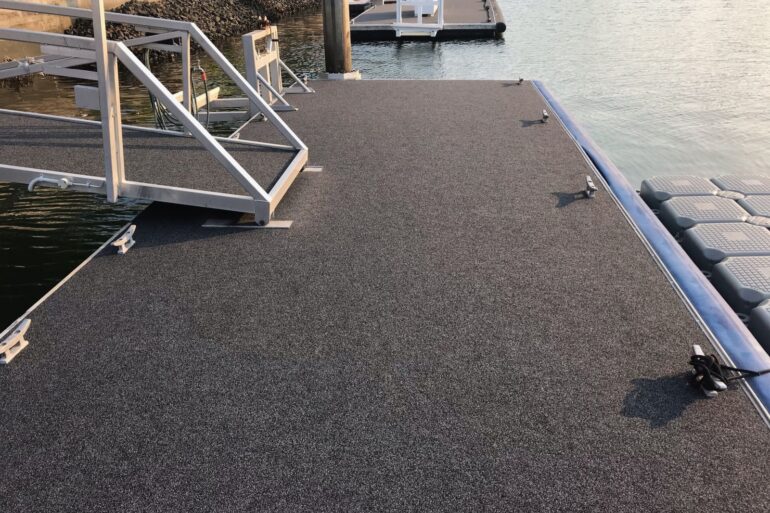 Marine carpet is one of the unsung heroes of our industry. It offers so many benefits that often only come to light once customers have had a chance to experience it for themselves.
If you have a gangway and pontoon that's looking a little worse for wear, or you're interested in getting a gangway and pontoon installed and looking at your options, then this article is for you.
Today, we cover six of the most notable aspects of marine carpet.
Marine Carpet is Excellent for Pontoons and Gangways
When it comes to pontoons and gangways, marine carpet is the ideal flooring choice since it has outstanding non-slip capabilities, dries rapidly, is easy to clean, and has UV stabilising properties.
While gangways may be decked with wood, those built of aluminium and covered with marine carpet are prefered. This preference is because aluminium will not decay, ensuring that the gangway will last for a long time.
A slip-resistant surface that can be readily cleaned is required for a pontoon. Furthermore, pontoons (as well as gangways) are exposed to direct sunlight throughout the day. The non-fade characteristics of marine carpet make it the perfect flooring choice.
We use high-quality Bautex Crusader marine carpet for most of our pontoons and gangways at Micks Marine Maintenance. It is made from polypropylene and features a velour surface that is comfortable to the touch and delivers exceptional durability and performance.
Marine Carpet is Different from Outdoor Carpet
Despite their similarities, outdoor carpet and marine carpet are two distinct products. Decks, patios, RVs, rumpus rooms, and other outdoor applications may benefit from outdoor carpet.
While marine carpet may be used for similar applications, it is particularly engineered to last longer in marine situations. It will most likely have a superior backing, come in various weights, and be thicker and plusher. It's also woven differently than regular outdoor carpet in that the threads aren't looped to the backing, minimising fishing hooks from hooking.
Crusader marine carpet is made in the Netherlands and has an SBR latex backing, 600grm/m2 fibre weight, and a nominal thickness of 7mm.
Marine Carpet Repels Moisture & Water
Marine carpet is a water-resistant carpet created specifically for use on boats and in marine situations. It's usually composed of stain- and fray-resistant polypropylene fibre and is available in various colours and finishes.
Unlike conventional carpet, marine carpet does not absorb moisture and does not degrade the fibres. Stain resistance is also a feature of high-grade marine carpet, such as the carpet we use. As a result, if you spill a drink or a bucket of fish guts on your pontoon, it may be hosed off quickly without soaking into the carpet or causing a stain.
Marine Carpet Makes Pontoons Safer
Marine Carpet increases the safety of gangways and pontoons for your family and friends. Although the adhesive used to secure marine carpet is strong, it will deteriorate with time due to exposure to the sun. When the glue fails, the carpet may become loose and rise in places, posing a severe tripping danger.
It's a good idea to inspect your pontoon and gangway on a regular basis, giving special attention to the carpet. A little rip or raised edge might quickly grow into something much bigger, leading to serious personal injury.
Marine Carpet Is a Cheap Way to Refurbish a Pontoon
Despite the fact that marine carpet is made to a high standard, it will exhibit wear over time and start showing its age. However, this doesn't mean you have to buy a new pontoon to make your old one look like new again!
Your pontoon can be restored close to its original condition by having it recarpeted. Nothing looks better than a vibrant carpet with no traces of wear!
The Cost to Replace Marine Carpet Will Vary
The cost of replacing marine carpet on a gangway or pontoon will vary depending on the current condition of the carpet, the carpet adhesive, and the size of the gangway and pontoon. Contributing factors include the time it will take to remove the existing carpet, any pontoon accessories and ready the surface for the new carpet.
The marine carpet cost alone also varies, depending on the provider and the quality of the carpet. The higher the quality of the carpet, the longer it will endure. Our ideal carpet is UV-stabilized and comes with a 2-year limited outside guarantee from the manufacturer.
If you'd like a no-obligation price to recarpet your pontoon or gangway, please contact us.
Learn more about our gangway and pontoon recarpeting service.
Conclusion
Marine carpet is one of the most important elements of any gangway or pontoon. It offers protection, safety and looks great. The cost of replacing marine carpet is affordable and offers an economical option for a pontoon refurbishment.
If you're interested in installing a gangway and pontoon with marine carpet flooring or would like to replace your existing marine carpet for new, give us a call—phone 0431 778 468 for a free quote.