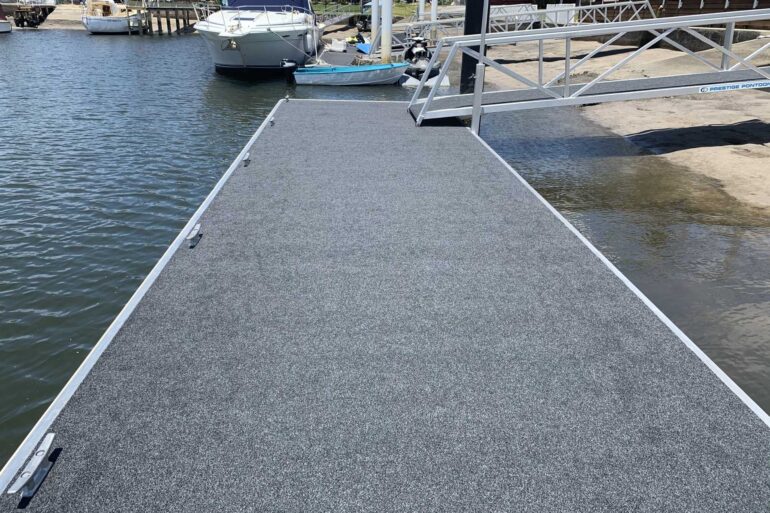 Choosing a pontoon dock builder is much like choosing a house builder; you need to research, find out who is reliable, has a good reputation, and does quality work without ripping you off. Because pontoon docks are custom made and not something you can buy off the shelf, none are the same, which makes comparing prices difficult. However, if you purchased your pontoon from Micks Marine Maintenance, then there's no need to worry about getting ripped off. In fact, you'll probably have a little bit of pontoon dock budget leftover.
Not only do we manufacture some of the best pontoon docks in Yamba, Tweed Heads, Gold Coast, Brisbane, Bribie Island, Sunshine Coast, and everywhere in between, we also deliver some of the best value pontoons docks too. If you did your due diligence and got three quotes for your pontoon dock, then you'll see just how much money you can save, and therefore have leftover in your pontoon dock budget by partnering with Micks Marine Maintenance.
While, yes, you could put that leftover budget back in your bank account, you could also look at it as money saved, which you can then put back into making your pontoon dock even better. If you'd rather look at it as the latter, then we have some great suggestions on how to go about spending your leftover budget. Continue reading to find out.
Put it towards a PWC or Jetski
What's better than having a pontoon dock? Having a PWC or jetski to accompany it, of course! Even if you already own a boat, it can't compare to the freedom and convenience of jumping on a PWC or jetski and zipping around the seaway or canal.
Yamba, Tweed Heads, Gold Coast, Brisbane, Bribie Island, and Sunshine Coast have some of the best waterways for PWC or jetski, so investing in such a craft will be leftover money very well spent.
Pimp your Pontoon with Accessories
If you already have a boat, PWC or jetski, then put the money back into your pontoon by pimping it out with some very functional accessories.
For those with a PWC or jetski, consider adding a roller system, jetski dock or an electric winch to make dry berthing all the more convenient.
If you love to fish, why not spend your leftover pontoon dock budget on a custom fish cleaning station equipped with a hose and reel stand, underwater lighting, light posts, and lockable storage boxes.
If you're a kayak or canoe enthusiast and prefer people-powered exploration over petrol-powered boats, PWCs and jetskis, then adding kayak/canoe holders to your pontoon dock will be money well spent.
There's no limit to the options available. If it can be fabricated, the team at Micks Marine Maintenance can build it for you.
Invest in Pontoon Dock Servicing
Accessories are great, but they're not always needed. If you're more interested in the longevity of your new investment rather than pimping it out with accessories you may never use, there's no better way to spend your leftover pontoon dock budget than to reinvest it back into your pontoon dock.
Micks Marine Maintenance offers annual pontoon servicing to keep your pontoon in tip-top shape and prolong its lifespan. We will regularly inspect your pontoon to stay abreast of any maintenance issues before they become more prominent, more expensive, problems to fix. We can remove any barnacle buildup, replace worn-out pile rollers, replace worn-out cables, and advise you of any additional items that may need attention, such as worn-out marine carpet, aluminium corrosion, and broken pile brackets.
Save it for Future Repairs
Even if you bought your house from the most awarded builder, it would need maintenance and repairs over time, and a pontoon dock is no different.
Pontoons can become damaged by other boats, severe storms or purely due to their age, even with our annual pontoon servicing or your own maintenance routine. Repairs are inevitable, and to keep your pontoon dock safe, functional, and as a valuable asset to your home, you will need to repair it. Having some money saved away for such repairs will ensure you're able to meet these obligations.
Conclusion
If choosing Micks Marine Maintenance to build your pontoon has left you with a surplus pontoon dock budget, then why not put the excess back into your new pontoon dock? There are several options to consider, including;
putting the money towards a new PWC or jet ski so you can enjoy your pontoon and the waterways all the more,
pimping your pontoon with an array of accessories to make it all the more functional,
investing the money into ongoing servicing to keep your pontoon dock in tip-top shape, and
saving the funds for any future repairs to retain the pontoon dock's functionality, safety, and value.
Whether you want to spend the money on accessories, maintenance, or repairs, call Micks Marine Maintenance. We'll look after you just as we did with your pontoon sales.
Call 0431 778 468 today.