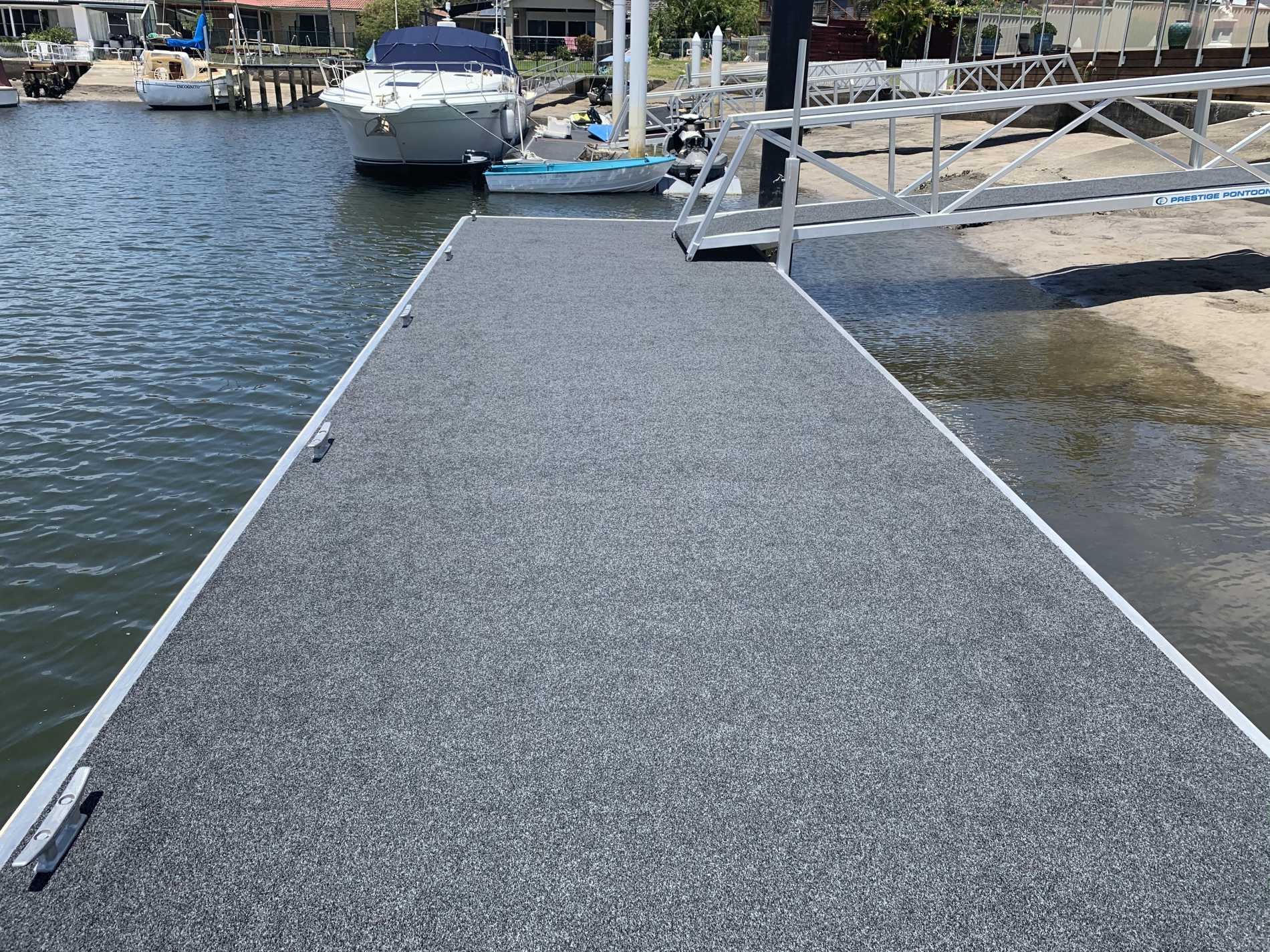 If you own a pontoon, there's a very good chance that your pontoon and gangway are covered with marine carpet. Marine carpet is one of the most common flooring options for marine conditions because it offers excellent grip, it's affordable, and it's easy to lay and re-lay. It's a must-have for boats, and it's definitely our preferred flooring option here at Micks Marine Maintenance.
We rely on marine carpet for most of our pontoon and gangway constructions and are regularly called on to recarpet pontoons or improve gangways by changing the timber flooring to aluminium with marine carpet. There simply is no better option, in our opinion.
If your pontoon or gangway is looking a little old, perhaps a little shabby around the edges, then maybe it's time you considered having it recarpeted.
It will make your pontoon look like new
You don't need to invest in a new pontoon to make your pontoon look as good as new again! It's all in the carpet.
Although marine carpet is manufactured to a high level of quality and is often made from UV treated fibres (and will therefore have fade resistance properties), it is in direct sunlight all day, every day. Over time, it will fade.
Over time it will also show signs of wear. It can wear in heavy foot areas and may even lift from the edges. Such visible signs are unpreventable and will show your pontoons age.
By having your pontoon recarpeted, it will be restored to that brand-new look again. Vibrant carpet with no signs of wear – nothing looks better!
It will add value to your home
You don't have to be a real estate agent to realise that a pontoon is a significant drawcard for any waterfront home. It's a valuable asset that will not only add value to a property but make a home much more attractive when it hits the market.
However, a pontoon with shabby, faded carpet may be off-putting to some. It can make a pontoon look less attractive, and potential buyers may look to it as a lot of "work" to fix. Of course, this isn't the case. Replacing marine carpet on a pontoon or gangway is a straightforward process that can be completed in most cases in just 1 day if done by professionals, such as those at Micks Marine Maintenance.
As mentioned, recarpeting a pontoon will make it look like new again, which will undoubtedly help your pontoon retain its value, which in turn, will make your more home attractive come time to sell.
It will make you use your pontoon more
If you're not using your pontoon regularly, then ask yourself why? Whether it's because you've lost interest or because it's doesn't look at good as it used to, nothing will draw your attention back to your pontoon like nice new carpet! It's just like re-oiling a deck; you instantly want to invite friends over for a BBQ, right? Well, recarpeting your pontoon is the same thing! You'll get back that pride and want to start using your pontoon again.
It will make your pontoon safer
If for no other reason, please recarpet your pontoon for the safety of your family and friends. The adhesive used to glue marine carpet down is robust, but it will perish over time with the constant sun. When the adhesive starts to fail, the carpet can become loose and lift in areas, creating significant tripping hazards.
It's advised to perform regular maintenance checks on your pontoon and gangway, paying particular attention to the carpet. A small tear or a lifted edge can quickly become much larger, and more dangerous.
Conclusion
The majority of pontoons and gangways are covered by marine carpet because it provides such good grip and value for money. It's perfect for such platforms and can offer years of use. However, pontoons and gangways are exposed to continual harsh elements, which over time, will deteriorate marine carpet. It starts to fade, the adhesive wears and eventually, the carpet can become thin and lift, becoming very hazardous.
There are many sound reasons to have Micks Marine Maintenance recarpet your pontoon. Firstly, new carpet will make your pontoon look like new again. It will also add value to your property and make it more attractive for potential buyers should you be looking to sell. And, like all new things, you will want to use it more. Most importantly, new pontoon carpet will make your old, lifted and peeling carpet safe and trip-free.
If it's time you had your pontoon and gangway recarpeted, pick up the phone and give Micks Marine Maintenance a call. You can reach us on 0431 778 468. We look forward to hearing from you.
Learn more about our Pontoon Recarpeting service.