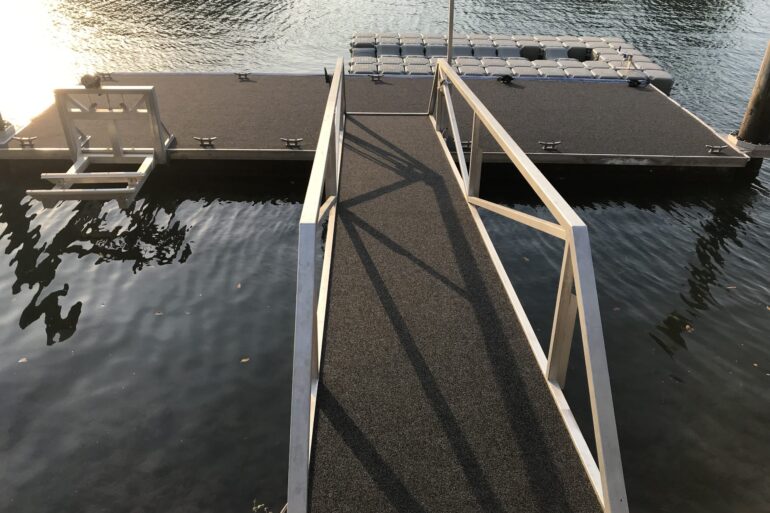 You only have to visit one of the many waterfront suburbs of Yamba, Tweed Heads, Gold Coast, Brisbane, Bribie Island, or the Sunshine Coast to see how prevalent pontoons are. They're a common fixture in waterfront properties due to the functionality they provide and the value they add to a home. Yet, you'll notice one visible difference when looking at pontoons; they're all different.
No two pontoons are the same. Some are small; some are large. Some are long; some are thin. Some are T Head; some are Finger – you get the picture! So when buying a pontoon, it's not a case of walking into your local pontoon supplier and choosing one off the shelf. Instead, it's a matter of contacting a pontoon manufacturer and having a pontoon custom made.
Manufacturing pontoons is something we at Micks Marine Maintenance know all too well. As one of the leading pontoon sales companies in the region, we are experts at designing and manufacturing pontoons.
So today, we would like to share with you some of our expert tips to keep in mind when it comes time to design your pontoon. By following these tips, you can rest assured that your finished pontoon will be absolutely perfect for your space and needs. Moreover, you'll have factored in future considerations like buying a bigger boat to ensure your pontoon will always be ideal.
Decide whether you will Wet Berth and Dry Berth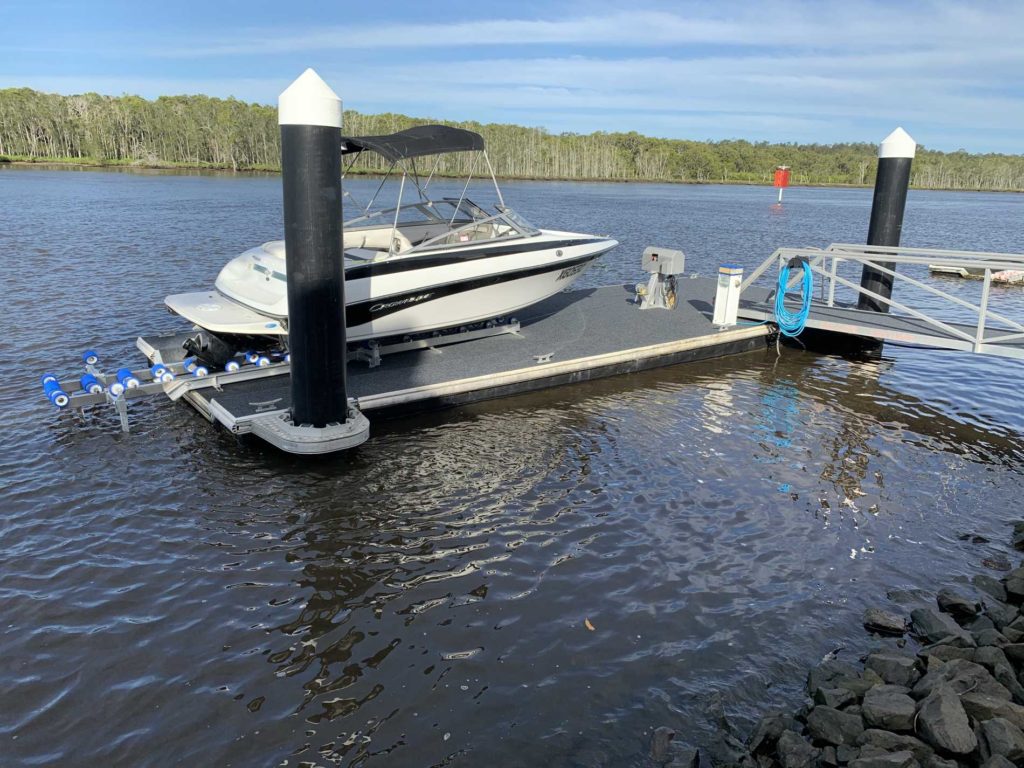 When designing the perfect pontoon, one important consideration is: whether you are planning only to dock the boat on the pontoon or whether you are planning to dry berth the boat on top of the pontoon?
Wet berthing is the most common option in Yamba, Tweed Heads, Gold Coast, Brisbane, Bribie Island, and the Sunshine Coast because it is cheaper and easier. The boat simply remains in the water, moored to the pontoon. However, it does require routine antifouling and will reduce your boat's longevity.
Dry berthing is the best mooring option for your boat. It means the boat is not in the water, preventing regular antifouling and extending the life of your boat. However, as a general rule of thumb, we don't recommend you berth your boat if it is over 6.5mt in length or heavier than 2.0 tonnes (2000kg) on a pontoon.
If berthing your boat is a must, and your boat is within these constraints, you'll want to ensure the pontoon is designed to support dry berthing. You'll want a pontoon with a tapered end in such a case. The tapered end will allow you to berth your boat with ease using a roller system and an electric or manual winch.
Choose The Right Size Pontoon For Your Needs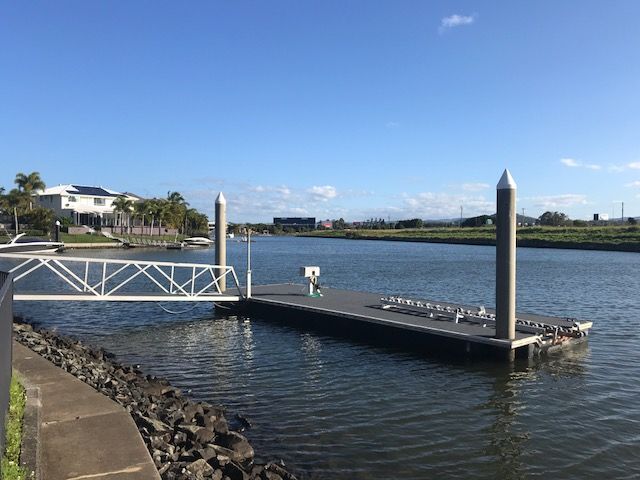 If you're buying a pontoon to dock your boat, ensuring your pontoon is big enough to support your boat is vital. For this, you need to consider the width and length of the pontoon (excluding the gangway).
If you intend to wet berth your boat, the ideal pontoon width is between 2.4m and 3.5m. Wider pontoons are prefered over narrow pontoons because narrow pontoons are more unstable and give less space for non-motorized watersports equipment and other objects.
If you intend to dry berth your boat, the ideal width is 3.5m – You'll want to keep it on the wider side to ensure there is room to walk safely around your boat when it's dry berthed. This space will allow you to inspect and perform any maintenance while it is berthed. It will also make launching and loading your boat more convenient.
In terms of pontoon length, the minimum length we suggest for a dry berth is 8m however this may result in the winch cables being right at the end of the gangway. With 10m plus the gangway can be offset allowing deck space for both the roller system and winch set up without interfering with the gangway landing.
Factor your Location Into The Pontoon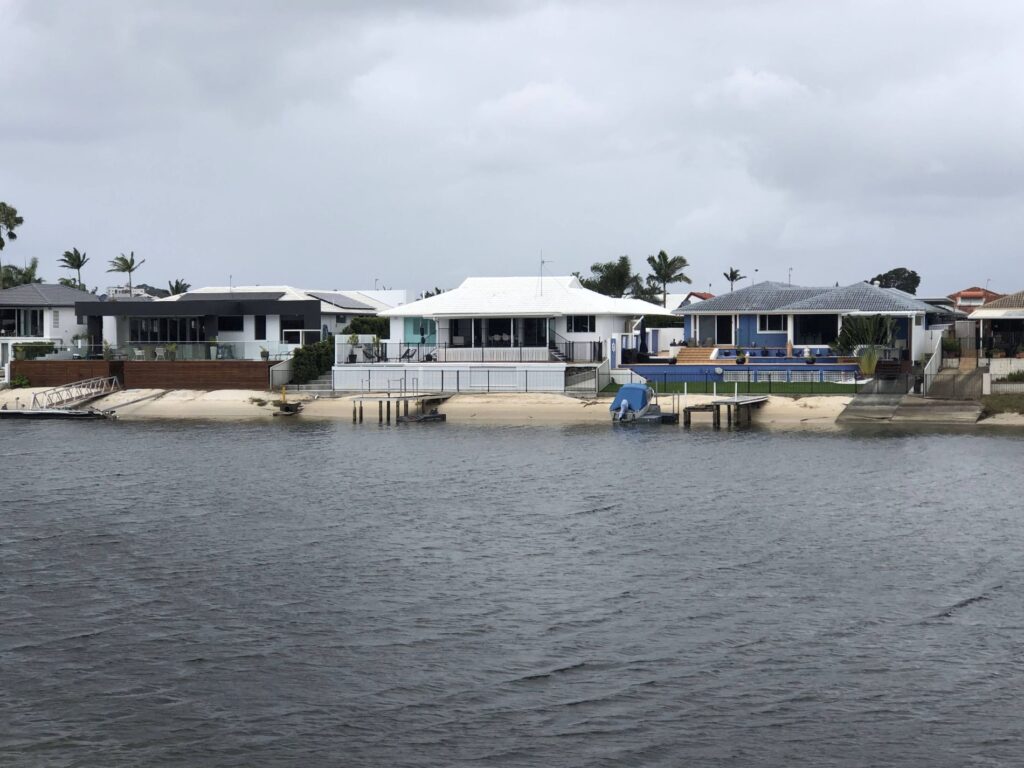 Your berthing preference and the pontoon size aren't the only considerations to make when designing your pontoon – your waterfront location should also play a significant role.
Seabeds, winds, and ocean conditions will vary depending on your location. While you may have your heart (or budget) set on one type of pontoon, it may not be a viable option.
For example, suppose you live around Sovereign Islands or another waterfront suburb that joins the ocean. In that case, you are more likely to experience stronger winds and bigger waves than those living inland on a quiet canal. Or, say your location has a rocky seabed. In that case, a piling barge may struggle to hammer a pile into the seabed. So my point is you need to design your pontoon to withstand such conditions.
To learn more about the types of pontoons and the conditions to which they are best suited, visit our Pontoons page.
Aluminium Always Out-lives Timber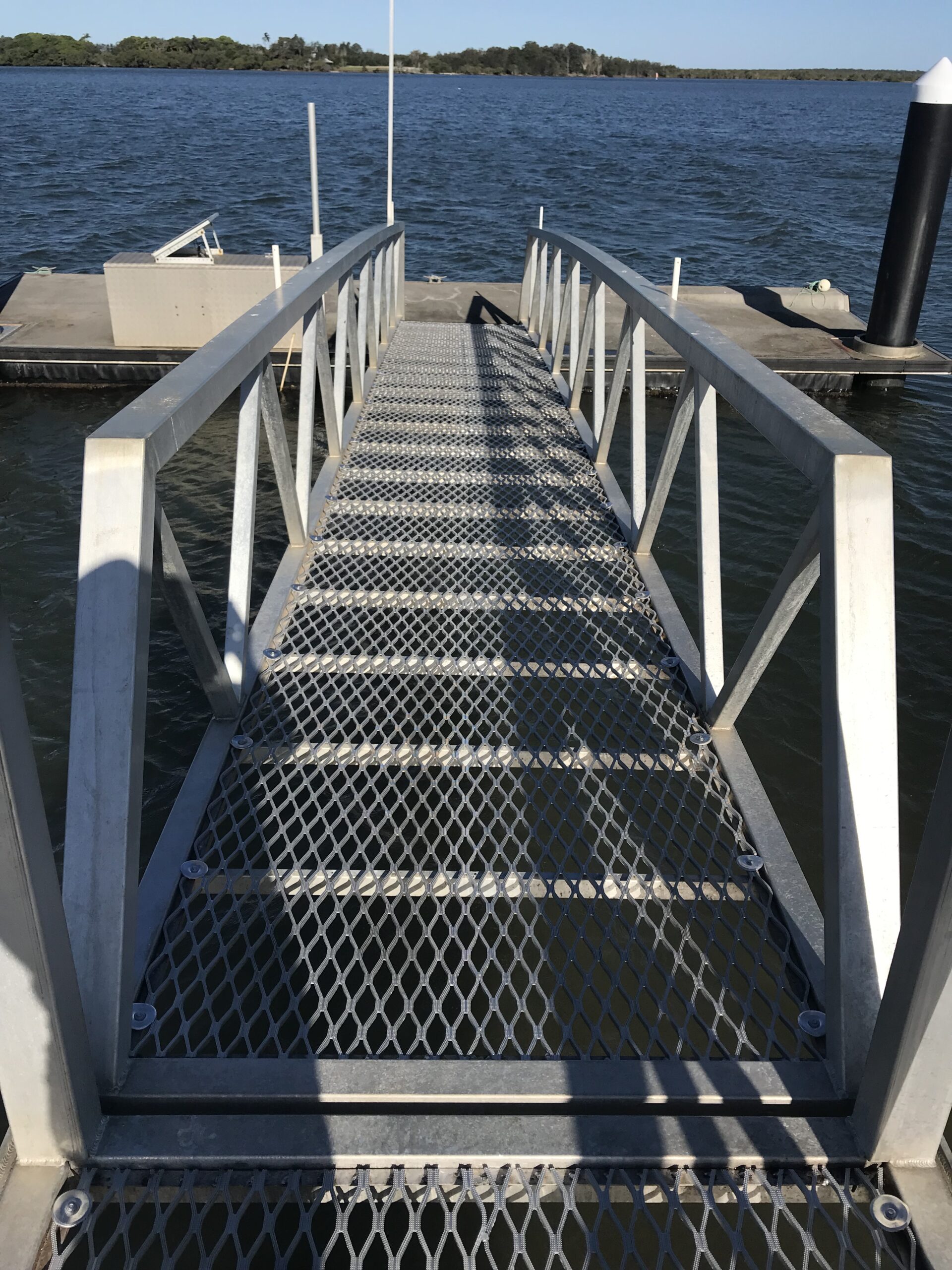 The tips above concentrate on the pontoon dock itself, not the gangway that provides access to the dock. However, this is a vital component of a pontoon and needs to be considered in the design process.
Gangways are generally made from aluminium, though the decking can be made from various materials. One standard decking option is timber. And while timber looks great initially, unfortunately, it won't last. Timber and water just don't go well together.
The wood rots and eventually decays, creating a very hazardous situation. As such, we've had to replace so many timber gangway decks that I've lost count.
Save yourself the cost of replacing a timber deck by choosing aluminium from the get-go. You can select aluminium sheeting covered with marine carpet or another great option is aluminium or FRP grating both offering great grip and allowing water to pass through.
Conclusion
Adding a pontoon to any waterfront property is always a good idea. However, you want to make sure you get the perfect pontoon for your needs, budget, and location. For this, some level of expertise is needed.
You are not expected to be an expert pontoon designer. In fact, you're not expected to know anything about designing a pontoon. However, having the knowledge of the information provided in this article will help you decide on the pontoon proposal presented to you by professional pontoon manufacturers, such as Micks Marine Maintenence.
We can review your waterfront property and discuss your berthing options, size options, and which type of pontoon is best for your location. Give our friendly team a call today on 0431 778 468 to discuss your options. We look forward to designing the perfect pontoon for you soon.